The quiet grandeur of Saint Laurent
Anthony Vaccarello, dress my soul
Anthony Vaccarello has been working for years to take his Saint Laurent in a new direction. His is a fine job: if years ago it was Hedi Slimane who once and for all established the rock-chic and nocturnal aesthetic of the brand, even changing its name, since his arrival the Italo-Belgian designer has wanted to take its imagery back to more sublime territories, gradually cleaning up the brand's production and transporting that same nocturnal aesthetic from the bohemian concerts of the Los Angeles underground to gala evenings, so to speak. The first results of this reorientation of Saint Laurent came with womenswear, a category for which Vaccarello has established in recent seasons a precise and elevated language more faithful to the great Yves's original vision, and, after a series of spectacular menswear shows set in Morocco and Venice, last night a new language was firmly and definitively established for the men's wardrobe as well. Last night, under the monumental frescoed dome of the Bourse de Commerce in Paris, and with the evocative piano accompaniment of Paul Prier, a collection walked the runway that was a masterpiece of balance and measure, far removed from the subcultural suggestions of youth culture and in search of a formal perfection that, with all its universality, nevertheless remains endowed with a voice and a total and immediate identifiability.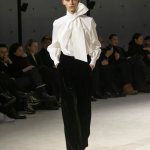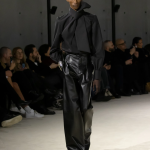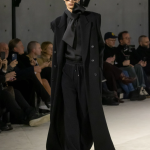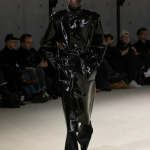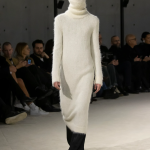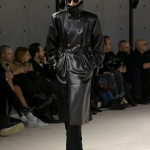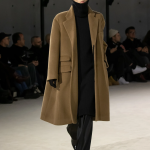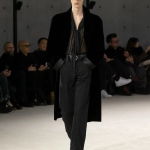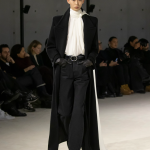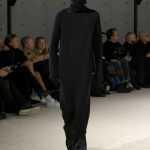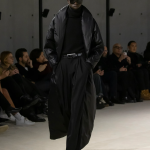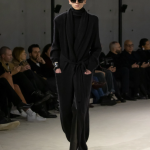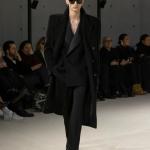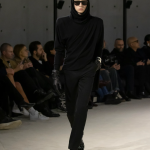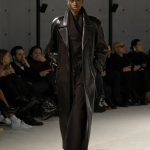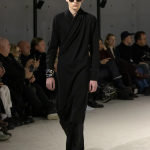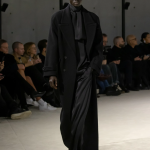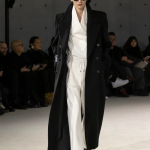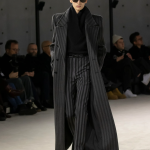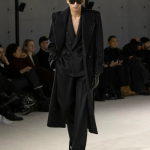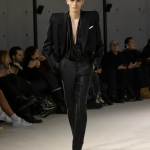 The principle behind the collection was to bring the brand's womenswear and menswear up to the same speeds, making them two sides of the same coin, but without conceding anything to extravagance and the desire to shock. The giant bows that decorated the white shirts were a reference to Alber Elbaz's Saint Laurent, especially the one from the FW99 collection, but also to the last 90s couture collections signed by Yves before his leave from the scenes. There were hints of Tom Ford's languor and Pilati's formalism (especially the FW12 menswear collection) but without the eroticism of the former or the muscularity of the latter. Vaccarello's work was to attenuate, reduce, and concentrate the essence of the collection into an archetype, a painted silhouette without smearing. What was sought here was absolute purity, terse and crystalline execution, and a kind of exactness too romantic to be called mathematical, but also too calculated to be called emotional. Totally lacking in all this, as we said, were concessions to trends and shock for its own sake - eccentricity was at best reserved for sweaters and evening shirts that become like long tunics, however, worn with a pair of tailored pants and shiny black shoes. What Vaccarello provided the audience, in short, is the very definition of "timeless" since these dresses, while remaining firmly contemporary with their fluid vocation for genderlessness, could belong to any era and represent a further and safe step toward a new definition of classicism and tradition.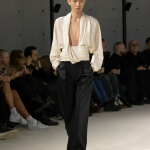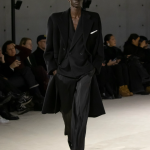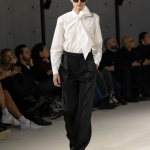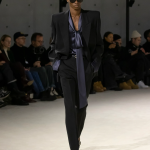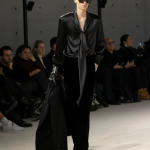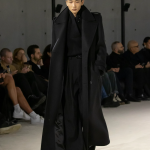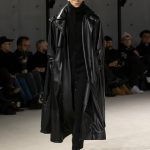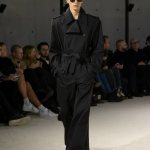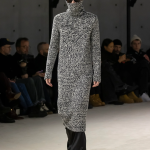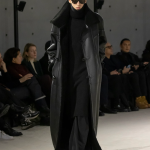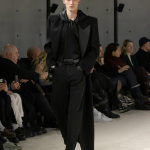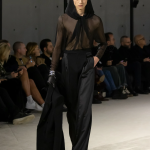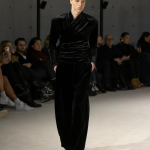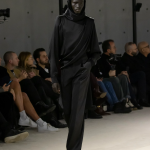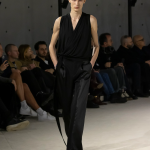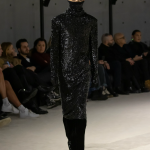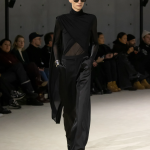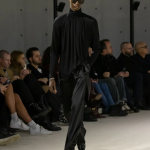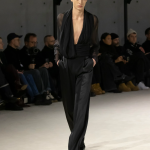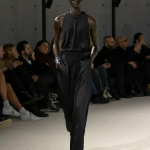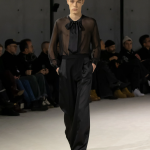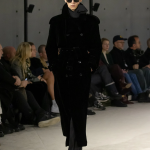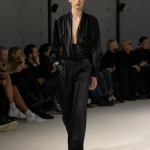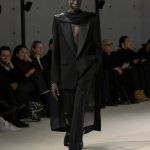 Yesterday's show, finally, solidified the imagery and cultural capital of Saint Laurent - a brand that recently, and perhaps better than its peers, has made culture one of its main workhorses, building an "extended family" of great French actresses, from Deneuve to Beatrice Dalle to Charlotte Gainsbourg, who last night also played the piano for the show's finale in one of the brand's classic androgynous tuxedos; but also involving great contemporary directors such as Pedro Almodovar, Abel Ferrara, Jim Jarmusch, and David Cronenberg in its campaigns and film initiatives. The brand's shows are also far removed from traditional catwalks and always evoke a quiet grandeur, a scenic and all-French love of the monumental that situates coats and jackets in an almost Olympian dimension. The kind of coolness that Vaccarello pursues, in fact, is not tied to specific ages or physicalities, but tied only to places (Paris and Morocco especially) and only to a kind of cultural elevation and prestige that represents the elevation of the design itself, the value intrinsic to Saint Laurent name itself.