Is Gabriela Hearst leaving Chloé?
According to some rumors, the new designer could be Clare Waight Keller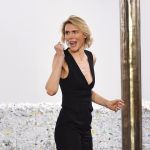 Working in fashion causes tension, especially among colleagues. Between misunderstandings, barbs, misunderstandings and various despotisms, the climate in certain offices can resemble that of the WWE Grand Slam, and although rumors speak of exclusively verbal clashes, some sources tell us that an escalation of rifts between colleagues is what is happening at Chloé where, according to Miss Tweed, creative director Gabriela Hearst has allegedly quarreled a bit with everyone, including the brand's CEO. Already in the past few months there had been rumors of rifts and acrimony resolved with the exit of some key figures at the brand, as Fashion Magazine reports, and caused by Hearst's lack of desire to collaborate and compromise - it is not clear, however, on what.
A triangle of quarrels between Hearst, the design team, and the company's top management could mark the return of Clare Waight Keller, the brand's former creative director then lured by the flattery of LVMH, which put her in charge of Givenchy in 2017 and then replaced her with Matthew Williams shortly thereafter. The matter of the replacement, apparently, would have already been decided by Richemont and so it is up to the company to confirm or deny this rumor. But what would happen to the B Corporation brand obtained by Chloé precisely because of Hearst's work? More importantly, the rifts between the designer and management concern «diva behavior» as Miss Tweed writes, or do the compromises mentioned in the gossip have anything to do with the radical sustainability proposed by the designer? As in the case of Daniel Lee, we will probably never really know. But you never know - Paris gossip rarely sleeps.