Can you save energy by dressing heavier?
There are various solutions to avoid suffering from the cold, and the same institutions now recommend focusing on clothing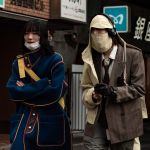 «I wear a turtleneck, but it also helps to stay warm if I put on a scarf. It all saves electricity». With these words, Yuriko Koike, the governor of Tokyo, urged residents of the Japanese capital to wear turtlenecks (the Italian name "turtleneck" comes from a Fellini film) to stay warm in the coming winter while saving energy. Keiko said that wearing turtlenecks helps keep the whole body warm, adding that it is "one of the tools at our disposal" to cope with the winter season at a time of severe energy crisis, simply by being a little resourceful. Representatives of French institutions share the same opinion: after Macron, who was photographed wearing a blue jacket, Economy Minister Bruno Le Maire had also declared that he would opt for turtlenecks instead of a shirt to «save energy and show moderation». Indeed, in many countries, not only in the West, energy costs have risen due to the consequences of the Russian invasion of Ukraine: small tricks, such as dressing heavier, would lower the electricity bills of many people and families, allowing them to get through the colder months without much economic difference compared to previous years. «Saving energy with a small gesture is something we can all do», said Pedro Sánchez, the Spanish Prime Minister.
While officials in Tokyo have reportedly already been encouraged to do so, in
Italy
too - since the announcement of the plan to reduce gas consumption - many have been wondering what
solutions
might be useful to avoid the cold at home or in the office while reducing consumption. This year,
heating
will be turned on later and with tighter hourly limits than in previous years, and many households will probably keep it lower due to high energy costs. Especially for those who spend long hours in front of the computer this winter, it might be worth rethinking what they
wear
. Dressing like an "onion" is a good start, but the
fabrics
of the clothes you choose - especially the
layers
that come into contact with the skin - make all the difference.
Merino wool
, for example, is particularly good for those who need to stay
warm
and comfortable at the same time: Its properties, including the fact that it is very breathable, help the body
regulate
its temperature, cause little perspiration and prevent unpleasant odors.
Cotton garments, on the other hand, are not recommended as a first layer to protect you from the cold, as they tend to absorb moisture. The garments you put on over the first layer should also be chosen according to the fabric if you want to stay warm: you can opt for wool or cashmere. Denim, on the other hand, the fabric used to make denim jackets, is among the least recommended for those who want to stay warm. In addition, more and more brands are experimenting with so-called thermal clothing. Uniqlo, for example, uses a fabric called Heattech (with three degrees of severity) for its cold-weather clothing, which regulates body temperature by binding moisture and reducing heat loss.
Another tip from experts to dress properly against the
cold
is not to wear
shoes
that are too tight, as this reduces blood flow and thus the body's natural warming. Also, when it comes to winter shoes, it is better to wear one size larger than one size smaller: although it may seem counterintuitive, the hollow space around the foot helps to insulate it against the outside temperature. For the
cold season
and special occasions, disposable
foot warmers
can be used: These are a type of small, thin pouch that, when shaken, become warm after a few minutes; they are self-adhesive, keep warm for hours, and work best when you are out and about. We should also point out a typical trend in
Northern Europe
, where it is now common to carry
blankets
for warmth, almost as if they were an accessory, and the same establishments often provide them for those sitting outside - again, merino wool is an excellent solution. Alternatively, you can equip yourself with a
scarf
big enough to make it into a cape. Finally, it is really advisable to have hot drinks or soups frequently during the cold months. All these measures, if properly applied, actually make it possible to keep the body warmer without having to intervene more in the heating, and thus save on bills in times of energy crisis, which more and more institutions - more or less informally - are calling for.