Video games and surrealism in JW Anderson's SS23 collection
When common objects become out-of-the ordinary clothes
The SS23 collection that Jonathan Anderson presented yesterday in London, in an old-fashioned arcade, possessed a surreal Alice in Wonderland vibe: clothes and looks seemed like alienating abstractions of common objects, ironic reversals of a reality that continues to swap with the virtual and vice versa. The reference to our relationship with technology remained preponderant with tops made only of keyboard buttons and prints taken from stock photos used as wallpapers speak of the «nature filtered by digital ego» in a world where physical plane and metaverse interpenetrate with paradoxical outcomes, amidst alterations of identity, in a liminal space suspended between the two worlds that is symbolized by the arcade that becomes a metaphor for a technology «where to fall and dive, headlong» e in which «people trapped in their computers [...] explore other dimensions».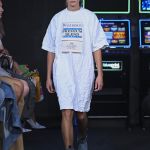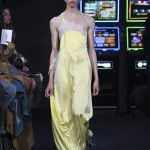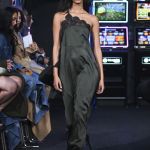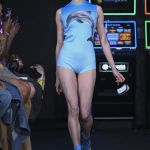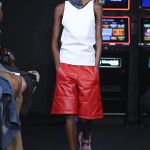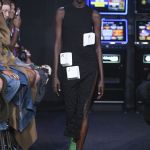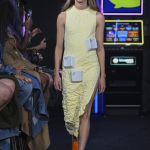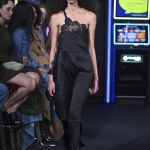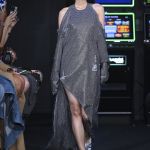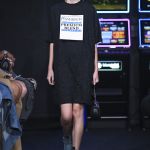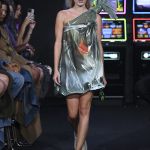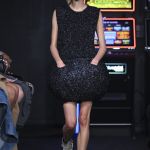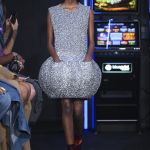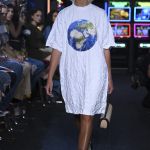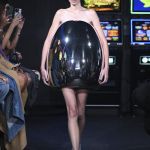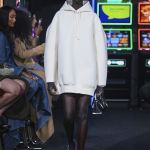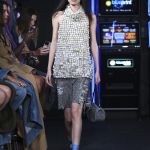 The surrealist procedure is also applied outside the real digital realm to enter the realm of everyday objects, captured in a snapshot that is at once veridical, ironic and deforming: the closing look, for example, which is a tribute to Queen Elizabeth II is a transfiguration in the form of a black neoprene sheath dress of a commemorative T-shirt circulated these days in London; elsewhere there are sweaters posed on the models' torsos complete with a laundry hanger that, in addition to being playful, also hark back to Maison Margiela's Artisanal collections; hammocks and steel lampshades turned into dresses, interior composition labels that become the central decorative element of t-shirts as huge as tunics, the waist of a pair of jeans becomes the collar of a t-shirt, shorts are stuffed like down jackets and balloon skirts as stiff as wood, a plastic bag with a goldfish in it is actually a top, a T-shirt is decorated with plastic fins as if it were a surfboard (and wearing it is Emily Ratajkowksi, no less) while several dresses are the result of weaving just two pieces of perforated jersey together.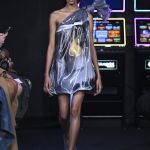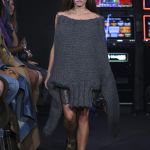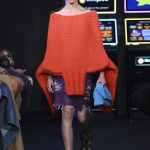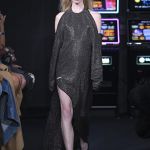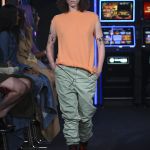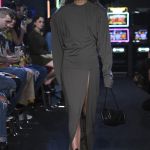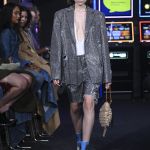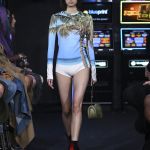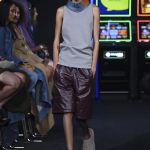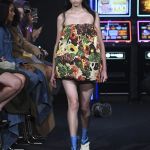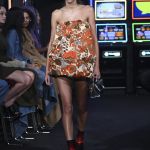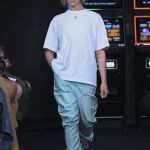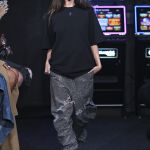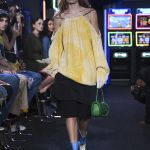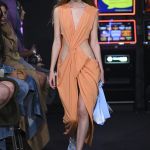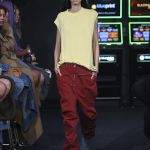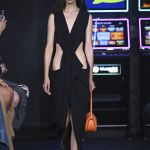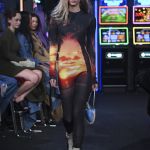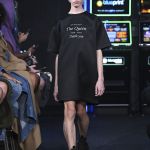 All these visual and semantic acrobatics were based on a strict compositional essentialism: a jumpsuit, a top, a skirt, a dress. Each look included more or less two or three items removed accessories and shoes-and thus even the most imaginative and original pieces were in themselves simple items but cleverly constructed by focusing on «the essential forms, the exaggerated details, the simple yet complex obviousness». Which brings balance and simplifies a collection that has almost nothing simple but whose abstract, playful and surreal message is strangely stark and succinct.