London Fashion Week reorganizes after the Queen's passing
Burberry and other brands have announced their new dates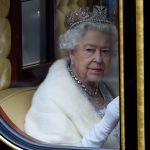 UPDATE 13/09/2022: After the initial shock due to the passing of Queen Elizabeth II, the London fashion world has had to come to terms with reality and try to regroup as best it can in anticipation of a London Fashion Week that has not been canceled but radically restructured. If Raf Simons has in fact cancelled his show and his team is presumably trying to find a new date these days, today Burberry announced that it will move its show from its original date to September 17 to September 26, somewhere between Milan Fashion Week and Paris Fashion Week. Meanwhile, all September 19 shows have been canceled as the royal funeral is set for that date. The shows of Chet Lo, Eftychia, Emilia Wickstead, Sinead O'Dwyer, and Pronounce have been moved to the last day of fashion week; Christopher Kane and Ancuța Sarca will instead show on Sunday while Chopova Lowena, Dilara Findikoglu, and Helen Anthony have been moved to Friday. And although parties and other more festive events have been canceled, the British Fashion Council affirmed that it's still important «to support designers both in attendance of shows and in coverage of shows in the context of business, creativity, and the stories of the designers behind the businesses who have experienced a period of extreme adversity, facing into more challenging times to come».
***
The worst has happened. At the age of 96, Queen Elizabeth II passed away at Balmoral, her Scottish residence, amid her family members gathered in haste for the occasion. The flags of the United Kingdom flew at half-mast and 12 days of national mourning were proclaimed. This mourning hits the country at a crucial time, at the change of prime minister and, more importantly, on the doorstep of what was to be one of the richest editions of London Fashion Week. But what will happen to fashion week now that the Queen is dead? Lauren Indvik, fashion editor of the Financial Times explained this in a tweet yesterday.
British Fashion Council has said London Fashion Week will continue in the event of the Queen's death, but will recommend all parties + "non-core" events be cancelled and any shows held during the funeral be rearranged

— Lauren Indvik (@laureni) September 8, 2022
According to what Indvik has reported, the British Fashion Council has already decided that fashion week will not be canceled but that, in observance of national mourning, all parties, after parties and extendable events will be canceled. Things do not end there: in fact, the fashion week calendar will have to be altered so that shows do not take place at the same time as the funeral ceremonies for the queen - a decision that is absolutely necessary but will certainly pose serious difficulties for the reorganization of a complex architecture of appointments and dates. It is likely that some shows will indeed be canceled, while other forms of tribute to the Queen will be organized by the brands participating in the fashion week program.
In a statement issued Thursday evening, shortly after the announcement of the Queen's death, the British Fashion Council said, «London Fashion Week is a business-to-business event and an important time for designers to show their collections at a specific time in the fashion calendar, we recognize the work being done at this time.«Therefore, fashion shows and collection presentations can continue, but we ask designers to respect the mood of the nation and the period of national mourning by considering the timing of the release of their images». Burberry said Thursday night that it will not go ahead with the Spring/Summer 2023 fashion show on Sept. 17 «as a mark of respect». Raf Simons has also indicated that he will cancel the show scheduled for Sept. 16, respecting Elizabeth II's legacy.