Armani sales exceed pre-pandemic levels
Over 2 billion in revenue a year ahead of schedule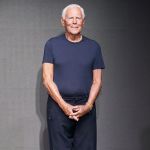 In 2020, Giorgio Armani, the creative director and CEO of the eponymous group who had been the most vocal about problems within the fashion system - production, collections and seasonality were the main issues at stake - wrote a letter that ended up in WWD. Following an operating loss of 29.5 million due to the closure of shops as the Covid 19 epidemic spread, the Armani Group has now said that revenues have increased by 26 per cent, approaching pre-pandemic levels, and that its revenue target of 2 billion has been reached earlier than expected.

Revenue continued to rise in 2022, up 20 per cent in the first half of the year, and "now consistently exceeds the levels achieved in 2019", the company told BOF. Despite not being able to hold a candle to giants like LVMH Group - whose fashion division grew by more than 42 per cent - Armani Group has been busy repositioning its brand: since 2017, the company has been working to simplify costs and build a more unified message, gradually discontinuing lines such as Armani Jeans and Armani Collezioni. «These results are all the more encouraging considering that they have been achieved without putting undue pressure on sales opportunities, but by rationalising the scope of the collections [and] carefully selecting the distribution network, in line with market needs and true to the brand's founding principle of 'less is more'», the group's two deputy general managers Giuseppe Marsocci and Daniele Ballestrazzi told BOF.

«I am also increasingly determined to continue on my medium to long-term strategic path, remaining faithful to the principles that have always been the basis of my creative and commercial philosophy and applying them to all aspects of our strategy» Armani added. News of Armani's group revival comes at a time of speculation that the 88-year-old designer and the fashion mogul could reach an agreement on a possible merger. Although the designer has repeatedly stated that he wants to keep his company completely independent, he told Vogue US last March that the pandemic had caused him to reconsider his decision.