Can celebrities do without a stylist?
Some don't need it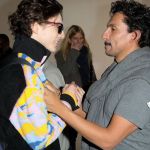 The stylist is that figure who is responsible for giving narrative continuity to the clothes that appear, season after season, on the catwalk. A figure deeply linked to the world of fashion publishing, he actually works today mainly as a freelancer even outside magazines. He looks after, for example, the image and style of celebrities during the most high-profile events shunted between film, fashion and music. Having a good celebrity stylist on one's side means, in other words, securing maximum media exposure. Exposure that, by reflex, fashion brands also go to when they choose to tie themselves to certain personalities.
It is a matter of consistency - narrative and aesthetic together - that can elevate a celebrity's image or, on the contrary, pull her down into the vortex of mediocrity. What would become of Dua Lipa without her faithful adherence to Versace or Y2K-oriented looks? Or of actress Hunter Schafer's colors so cool that they become one with Prada's hyper-selective imagery? And why not, of Zendaya or Blanco's lightness transformed into couture draping by Valentino? Yet, not all celebrities have chosen to resort to the expertise of a stylist. First of all, Chiara Ferragni. A forerunner in becoming aware of the potential of digital, clashing with an elitism that did not allow her to be recognized as equal to a system manic with hierarchies, she never hired a stylist. Whether choice, statement, or stance, the truth is that Ferragni has no need of one: by stealing the very idea of the fashion victim, simulating at the same time its characteristics and effects, she actually creates the victims. With or without a stylist. Having a stylist by one's side, in fact, can pose limitations: there is a risk of exploring a certain kind of aesthetic imagery linked exclusively to certain brands, forgoing a more personal point of view.
Timothée Chalamet, for example, curates his own selection of looks for events such as the Golden Globes or the various festivals he attends. From Louis Vuitton to Dior via Haider Ackermann, the actor only works personally with the designers he prefers. Sometimes he contacts them directly via WhatsApp, as in the case the ensemble designed by Virgil Abloh. Vision shared by actress Blake Lively, who happily lacks a stylist. «I love design and fashion, and it's a way to be creative», she told WWD. «The hardest part is going through all the runway shows, screen-shooting all the looks you like and calling them [...]. I have an assistant who helps me choose the looks. But most of the work is having relationships with the designers», she said. From her first MET Gala appearance in 2008 - she wore a Ralph Lauren gown - to her recent appearance in Atelier Versace, the actress has always managed to get the press and the public to agree, staying true to a recognizable idea of glamour. Among the list of personalities who have no personal stylist are to be added the names of Kate Moss - celebrity stylist Sasha Charnin Morrison told Fashionista in 2011, «Blake doesn't use anyone. Sienna Miller, Diane Kruger, Kate Moss all have a very specific idea of how they want to look and they have great style» - Meghan Markle and Emmy Rossum. Most celebrities prefer to use a stylist because they simply do not have the time or resources to devote to choosing a look for a specific event. It may or may not come as a surprise, however, that many celebrities with a super recognizable style prefer to do without a stylist in the name of stylistic awareness that requires no intermediations.
Intermediations that, on closer inspection, constitute a fundamental piece for those taking their first steps within fashion. If in fact Timothéè Chalamet or Blake Lively can do without a stylist, it is because they already know how to move within a world of public relations, appointments and showrooms. Then there is the fact that the public is increasingly sensitive to the narratives put forth by brands. When singer Ana Mena published a post with a look belonging to Miu Miu's well-known SS22 collection, mixed reactions about it were unleashed on social media highlighting how the perception of the Miu Miu brand was diametrically opposed to the singer's identity. And it is precisely for this reason - identity, narrative and perception the triad mainly involved - that the intervention of a celebrity stylist can make a substantial difference.