What Balenciaga has to do with Anne Boleyn
The story behind the most copied necklace in history
From the 16th century to Ugly Betty, Balenciaga and Bella Hadid, the iconic necklace depicting an oversized 'B' from which dangle three teardrop pearls is history's (and fashion's) favourite mystery. A replica of the pendant of Anne Boleyn, Henry VIII's second wife that caused as much uproar in the king's court as it did on the Internet 450 years ago, causing a schism then and the reiteration of its tormented history in books, films and fashion shows today. An interest fuelled by the birth of Tudorcore, the trend that fuses distinctive elements of 16th-century England with contemporary garments, which has spread thanks to the Bridgerton phenomenon and the rediscovery of archive pieces from historic brands, from Dolce & Gabbana to Vivienne Westwood, which have made the corset the item of the moment. After Bella Hadid wore the necklace, a custum piece made by Dilara Findikoglu, demand for similar jewellery rose 56% on Lyst, along with a growing interest in the 'Tudor' style: square necklines and structured bodices.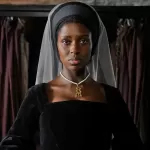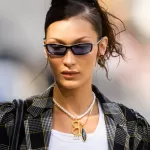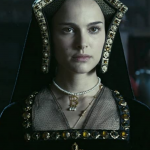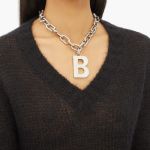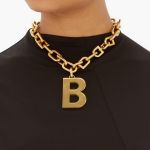 Henry and Anne's entire courtship begins and ends with a piece of jewellery. One of Henry VIII's first love letters to Anne Boleyn was accompanied by a gold bracelet with a picture of him inside. During their marriage, he showered her with jewellery: diamonds, rings and pendants with their initials intertwined and everything he managed to wrest from Catherine of Aragon, his first wife, including, it is said, a cache of legendary rubies. Their love also ended, in the most tragic of ways, over a jewel: legend has it that Anne discovered Henry's affair with Jane Seymour when she noticed something around her neck. It seems that Jane took pleasure in torturing Anne by repeatedly opening and closing the locket, containing a picture of the king, every time they were in the same room.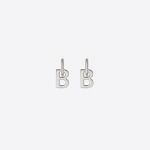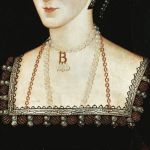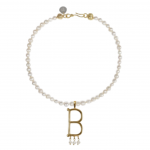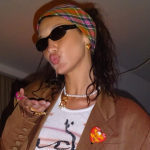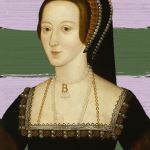 The idea we have of Henry VIII's second wife derives largely from a 16th century portrait hanging in Room 1 of the National Portrait Gallery in London, in which a young woman with a pale complexion wears an embroidered bodice and a considerable amount of jewellery, including the infamous three-pearl necklace and 'B' pendant. The story of that girl, from her tragic death to accusations of incest, became mainstream thanks to the film The Other Boleyn Girl, in which the English monarch is played by Natalie Portman and in which the incriminated pendant obviously appears. Probably the inspiration behind Balenciaga's jewel, which from SS19 onwards has become an iconic element of the brand's necklaces, bracelets and earrings, transforming, in a process of resemantization, the B of Boleyn into the Balenciaga B, and this is how, since the 16th century, the item has become one of the most desired and purchased pieces of contemporary jewellery. Although Henry VIII tried to erase her from history, first beheading her and then destroying all her portraits, the legend of Anne Boleyn lives on, as does the mystery of her necklace, which disappeared into thin air after her death. No one really knows what happened to it, whether it was bequeathed to Elizabeth I or whether it was destroyed in Henry VIII's clumsy attempt to erase her from history.