Olivier Rousteing will be the next guest designer of Jean Paul Gaultier
Protagonist of the third chapter of the innovative JPG partnership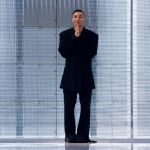 According to Vogue Business, sources close to the Jean Paul Gaultier maison say that after Chitose Abe of Sacai for Couture AW21 and Glenn Martens of Y/Project for SS22, Balmain's creative director Olivier Rousteing will be the next guest designer in the new JPG partnership model.
In 2020, Jean Paul Gaultier said goodbye to the catwalks and announced a new concept of collaboration that consists of inviting a new designer each season "to reinterpret the codes of the maison" and share a "vision of savoir faire haute couture". A form of patronage and at the same time a takeover that offers a completely innovative model to the classic way of understanding collaborations and that with Rousteing writes its third chapter, after a timid beginning of Chitose Abe and the creative peak of Glenn Martens in a collection in which the codes of Gaultier have met the aesthetics of the Belgian designer in a successful partnership, raising the bar for the creatives to come.
For Rousteing, who has been out of the limelight for a year following a domestic accident and has been at the helm of Balmain since 2009, this is a completely new and stimulating challenge that could breathe new life into his creativity, perhaps trapped in the heritage of the brand he has been following for more than a decade.