PFW is the new black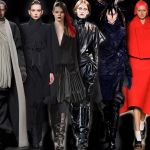 Il buio avvolge la Fashion Week parigina, dove trionfano sperimentazioni suggestive e tenebrose. Rick Owens e Nicolas Andreas Taralis rendono omaggio all'eleganza cruda ed essenziale, mentre Givenchy fonde maschile e femminile dando vita a sensuali ibridi che reinterpretano lo stile equestre. Yohji Yamamoto e Ann Demeulemeester giocano con acconciature d'ispirazione punk, ridisegnando insieme ad Haider Ackermann la silhouette degli abiti attraverso volumi strutturati e linee decise. Rei Kawakubo è l'unica a non lasciarsi tentare dal lato oscuro, proponendo un' eclettica monocromia audace ed esagerata, che trasforma la donna in un fumetto tridimensionale. Sfilano pezzi senza tempo, consacrati ad una raffinata sobrietà che trascende l'insopportabile macchina del trend stagionale.
Paris Fashion Week is surrounded by an obscure atmosphere, in which evocative and somber solutions take the control of Autumn/Winter 2012. Rick Owens and Nicolas Andreas Taralis pay homage to the raw and essential elegance, while Givenchy blends masculine and feminine, producing sensual hybrids that offer a new version of the equestrian style. Yohji Yamamoto and Ann Demeulemeester play with punk-inspired hairstyles, redesigning the silhouette of the clothes through structured volumes and strong lines. Only Rei Kawakubo resists to the seductive appeal of dark side, proposing an extremely bold color palette and unique shapes that transform the woman into a three-dimensional cartoon. Designers are moving on a timless narrative for next season; leaving the terrible machine of seasonal trends behind.