Philipp Plein will accept cryptocurrencies as a form of payment
The world of fashion opens up to cryptocurrencies
Goodbye Philipp Plein and welcome Crypto King. The German designer has chosen his new name to inaugurate the brand's entry into the world of digital currencies, giving its customers the possibility to pay in-store and online by choosing from 15 different currencies.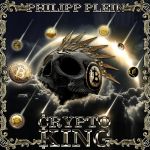 Philipp Plein thus becomes the first brand to accept cryptocurrencies as a form of payment, once again demonstrating the brand's readiness to intercept new trends and changes even outside the fashion world. "Being among the most progressive and disruptive fashion brands is nothing new to me" said Philipp Plein. "I believe that crypto currencies are the future and I committed my teams to perform all the system changes which were necessary in order to embrace them. I am very pleased to be able to offer to our customers this additional payment tool and the flexibility associated with it."
Despite the digitalization of fashion that took place in the last two years, no brand had yet chosen to open up to the world of digital currencies in this way. It will therefore be interesting to see if the choice made by Philipp Plein will become a precedent or if it will remain a solitary choice ignored by the rest of the fashion system.