Why more and more brands are accepting cryptocurrency payments
«Short-term volatility and long-term growth»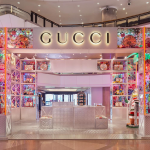 2022 was certainly the year in which brands - perhaps driven by a sort of imperialistic fever to be the first to conquer the unexplored land that is Web3 - experimented the most with blockchain technologies. Among the absolute innovators when it comes to the Metaverse, Gucci has established itself as an early adopter of Web3 technologies, through NFT projects such as SuperGucci and Gucci Grail or the Gucci Vault video game on Sandbox. It's no surprise then that the brand recently announced that it will start accepting cryptocurrency payments in some US stores from the end of the month, a move that clearly links Gucci's nascent Web3 community to real-world consumption. "Gucci is always looking to embrace new technologies that can provide an enhanced experience for our customers" - said Marco Bizzarri, Gucci's president and CEO, in a statement - "Now that we are able to integrate cryptocurrencies into our payment system, it is a natural progression for those customers who would like to have this option available to them."
JUST IN: Coinbase CEO says 1 billion people will have used or tried #cryptocurrency within the next ten years.

— Watcher.Guru (@WatcherGuru) May 3, 2022
In-store cryptocurrency payments will be made with a link emailed to the customer, containing a QR code that allows them to make the payment from their crypto wallet. Gucci will accept payments in more than 10 currencies, including Bitcoin, Bitcoin Cash, Ethereum, Wrapped Bitcoin, Litecoin, Shiba Inu and five stablecoins pegged to the US dollar, as well as Dogecoin, the "meme" cryptocurrency originally created as a joke. Similarly, Off-White™ now accepts crypto payments in its flagship stores in London, Paris and Milan. "This is another important step in the brand's growth as it looks to the future including Web 3.0 technologies and evolving customer needs" - commented the brand. Luxury watch brand Hublot made the option possible last February, while Italian luxury streetwear brand Philipp Plein, one of the first to adopt crypto payments in August 2021, said it had already accumulated 150 bitcoins (equivalent to around €6 million at the time of writing) to date.
For brands, this may be a functional strategy to consolidate their grip on the Web 3 community and a new generation of digital consumers, but it also poses a challenge and a risk in a landscape where virtual currencies have not yet been standardised. To circumvent value fluctuations for example, Off-White™ uses a special LUNU POS terminal, which finds the best currency to cryptocurrency exchange rate at the time of the transaction and is compatible with multiple crypto wallets by scanning a QR code to settle the payment. Volatility when it comes to cryptocurrencies is a real problem, just think of the fact that the price of Bitcoin in November 2020 set a new all-time high by surpassing $68,000 only to fall back to less than $30,000 in July, all while Ethereum, marked its new all-time high at the end of last year. Meanwhile, general interest in cryptocurrencies has skyrocketed: a hot topic not only among investors but also in popular culture, thanks to long-time investors like Elon Musk and trading platforms sponsored everywhere from bus stops to tiktok ads.
As a result, US government officials and the Biden administration have increasingly expressed interest in introducing new regulations for cryptocurrencies. The $1.2 trillion bipartisan infrastructure bill signed by the President in November includes reporting provisions that could make it easier to track cryptocurrency movements among Americans, just as online platforms like PayPal and Square are considering integrating them as possible payment methods. Tesla continues to ponder the option of accepting payments in Bitcoin, even though the company itself already holds billions in cryptocurrencies, while Amazon recently shared a job ad on linkedin for the role of "cryptocurrency and blockchain product lead". Bitcoin's performance is a good indicator of the cryptocurrency landscape in general, because as the most important cryptocurrency in existence, the rest of the market tends to follow its own trends. But how high will Bitcoin go? Many experts say it's only a matter of time before the currency reaches the $100,000 mark. Bitcoin's past may provide some clues as to what to expect in the future, according to Kiana Danial, author of "Cryptocurrency Investing for Dummies": "short-term volatility and long-term growth".