Gucci's new collection becomes a seven-part film
Directed by Gus Van Sant, with Billie Eilish, Harry Styles and Florence Welch
UPDATE 05/11/2020: What we called Alessandro Michele's flirtation with the world of cinema last week became a true love story this week. The brand has just revealed that Gucci's new SS21 collection will not be presented with a videoshow but with a real seven-part film set in Rome and starring, among others, Billie Eilish, Harry Styles and Florence Welch. The seven episodes will be made available through the seven days of a digital review called GucciFest that will start on November 16 and end on November 22.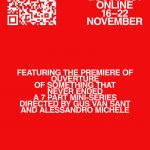 At the same time, the digital exhibition will also present the works of 15 independent designers who will present their collection under the aegis of GucciFest. These include Mowalola, Ahluwalia, Shanel Campbell, Stefan Cooke, Cormio, Charles De Vilmorin, JordanLuca, Yueqi Qi, Rave Review, Gui Rosa, Rui, Bianca Saunders, Collina Strada, Boramy Viguier and Gareth Wrighton. This is a very strange move. Not so much because the support of a famous designer to independent designers is new, but because GucciFest has all the air of being a counter-digital fashion week or of being able to become one in the future anyway.
-----
After Yorgos Lanthimos, Harmory Korine and the D'Innocenzo brothers, Alessandro Michele's love affair with the world of cinema continues. Gus Van Sant is the latest director with whom Gucci has started a collaboration for a project whose nature has not been revealed yet. Yesterday, the brand's account published photos of some watercolours signed by Van Sant and titled "Impressions of Rome", as well as a polaroid taken by Paige Powell that portrays the American director and Michele sitting together on a sofa.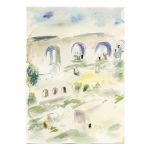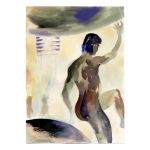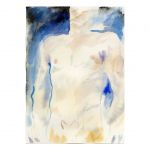 Given the previous works that film directors have been called upon to carry out in collaboration with Gucci, it will most likely be a campaign with attached video or, even more likely, the fashion film with which Michele intends to present Gucci's SS21 collection – which is expected to arrive in the form of an unspecified digital event later next month.
Van Sant, director of films such as Mala Noche, Elephant, Milk, Good Will Hunting and My Own Private Idaho, possesses a multi-disciplinary sensibility and attention to LGBTQ+ issues that are very much in line with the aesthetics created by Michele for Gucci. So far, the creative director of the brand has had some of the campaigns signed by contemporary cult directors, such as Lanthimos, who shot the brand's Eyewear 2020 campaign, or Harmony Korine, who shot both the lookbook of Pre-Fall 2019 and the campaign for the brand's Cruise 2020 collection.