The witches by Dario Argento become models for MSGM
Massimo Giorgetti and Dario Argento renew their collaboration for Milan Fashion Week
The collaboration between Massimo Giorgetti and Dario Argento becomes reality for the second time in a row.
Milan Fashion Week has closed its doors in a state of general panic due to the arrival of the Coronavirus in Italy. This new epidemic has turned the city on fire, putting down on it a subtle veil of fear and schizophrenia. In this scary atmosphere, Massimo Giorgetti, creative director of MSGM, has unveiled the second chapter of his brand new collaboration (or "exchange", as he referred to back in January during menswear fashion week) with the master of horror himself: Dario Argento.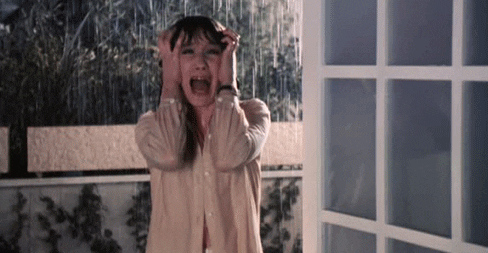 As we already said, the collaboration between MSGM and Argento was first unveiled in the occasion of the FW20 menswear fashion show, when MSGM models walked on the notes of Goblin's compositions (the most famous soundtracks from Argento's movies) and showed a collection that paid homage to the most famous Argento's poster and artworks: masterpieces as Deep Red, The Cat O' Nine Tales, Creepers and Suspiria were printed on a huge variety of ties, jackets and shirts of the Haunted Collection, a collection that was dominated by the combination of Argento's vibes with Giorgetti's obsession for colors.
"I've always been a huge fan of Dario Argento and I wanted to engage his interest for a collection that is marked with his own signature on the very label" said Giorgetti back in January; "I'm proud to say that we worked together on every aspect of the show, from the soundtrack to the lights and colors. He's very obsessed with colors, even more than I am."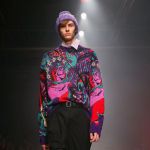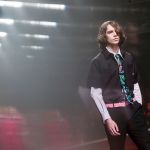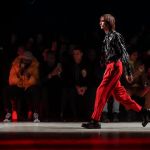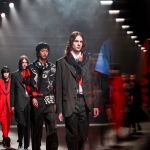 Their collaboration (ops, we meant "exchange") goes on with the womenswear. This time, Giorgetti opted for different inspiration: he paid homage to their common obsession and re-imagined his woman to be a perfectly designed Suspiria woman. On the music of the disturbing organ from Deep Red's soundtrack, he presented a large collection of bon-ton, porcelain doll-like little dresses; a new variety of pencil skirts and furs (all of them strictly ecologic, for sure), metallic boots and a lot of lace (lace was everywhere), then he combined it all with vivid colors as light blue, yellow and fuchsia (as was the runway). The statement is served. Seventies woman was clearly the main inspiration: Giorgetti and Argento's brand new woman is a brand new version of Susy (Jessica Harper) and Sarah (Stefania Casini) from the dance school of Suspiria and of Deep Red's reporter played by Daria Nicolodi. "Dario Argento has always been obsessed with female beauty; every hero in its films is always been a woman" Giorgetti points out in an interview with Vogue.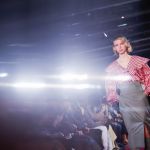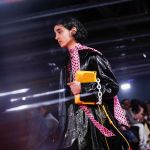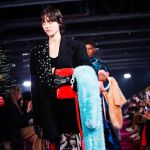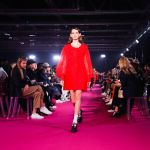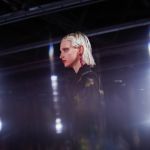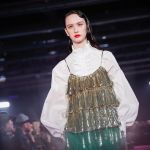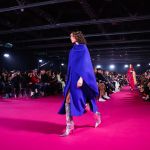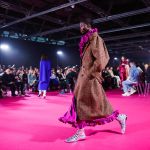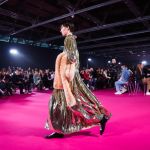 Among with the fabrics, there still were the eclectics prints that made the crowd go wild on the menswear show. The cat o' nine tales was printed in almost every piece: it was on dresses, on blouses and on a short-sleeves streetwear-inspired shirt. The iconic villa from Deep Red was a huge thing too and it was on a white shirt and even on denim. Furthermore, some official posters of Suspiria and Creepers were hidden under many layers of lace. "We've run out of velvet flies (as in Creepers), so I opted for printing fireflies..." said Giorgetti on the backstage.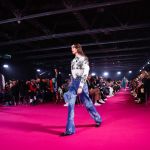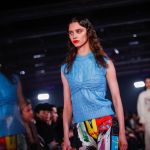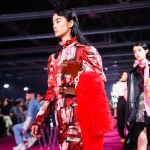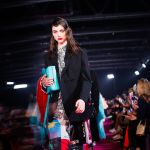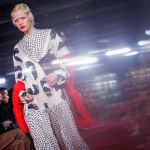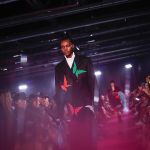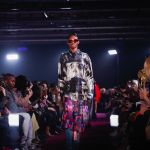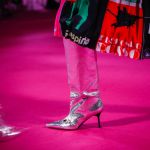 "I love fashion because it's culture", Argento said at the end of the show.
Nowadays Dario Argento's aesthetic is more alive than ever. It's not the first time that his heritage has inspired our present: two years ago, Luca Guadagnino directed a remake of Suspiria with Tilda Swinton, Dakota Johnson e Mia Goth (the film premiered at Venice Film Festival). However, Argento denied every kind of collaboration with the Italian director (in an interview with Rolling Stone he even said that "Suspiria didn't reflected the style of my film, it's very different: it's not scary, and the music is almost nonexistent"). On the contrary, for this show and the collaboration with Giorgetti he was sitting front-row. He even reposted the pictures on his Official Instagram page.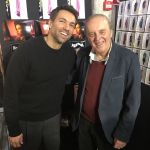 MSGM X DARIO ARGENTO will be soon available and it look like it's going to be a cult. The witches are back.