Will Smith stars in the weirdest Onitsuka Tiger video
The actor has just been named social media project partner of the brand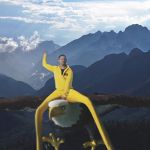 Will Smith is living a second youth. So after becoming the latest Moncler face and after having launched the trailer for the new film Bad Boys For Life, the actor unveiled his new collaboration with Onitsuka Tiger on Instagram with a weird video. In the images you can see Smith wearing a yellow jumpsuit and the Mexico 66 SD (a reference to Bruce Lee in the film Game of Death) who, with very long legs in the style of The Incredibles dances in front of the Great Pyramids, flies over the Brooklyn Bridge, rides an eagle, until he turns into a hot air balloon.
All we know at the moment is that, to celebrate the 70th anniversary of Onitsuka Tiger, the brand has appointed the star as its new social media project partner, without anticipating further information on the projects they will realize together. The Japanese company has thus motivated the decision to collaborate with the actor:
Will Smith is actively engaged in various projects such as those addressing environmental issues, having global, borderless influence on women and men of all ages via social media with his unique sense of humor and international awareness. And Onitsuka Tiger also strives to be a brand that provides Japanese technology and craftsmanship to the world via product design, making social contributions, and at the same time a brand that is more social media-friendly. Feeling this strong affinity, we decided to start this collaboration project.
While we wait to know more details, we can enjoy another video, in addition to that for Onitsuka Tiger, released in these hours starring the former Fresh Prince of Bel-Air who replaces Keanu Reeves in Matrix. Obviously, it's a deep fake, but it's true that the role of Neo was first offered to Smith who then refused it leaving Keanu a cult character.