How to make tie-dye according to Prada
With a video the fashion house has revealed its technique to give garments a psychedelic effect
The tie-dye has become the trend of the season thanks to brands such as Calvin Klein, Stella McCartney, MSGM, Proenza Schouler, Louis Vuitton, R13 and many others who have brought it back on the catwalk for spring/summer 2019.
This ancient printing technique already known by the Egyptian, has acquired an unprecedented sophisticated allure that has elevated it from an emblem of the hippie style to ultimate seasonal trend, while still maintaining some of that rebellious spirit, like tells Miuccia Prada talking about her SS19 proposal:
"On the one hand you want freedom, liberation, fantasy and on the other, you have extreme conservatism. I wanted to demonstrate the clash between these two opposites."
The Milanese fashion house introduced tie-dye as an element to subvert the classic 50s ladylike aesthetic, breaking dresses, skirts and even the famous Sidonie bag with lively color games. The typical designs of this dyeing technique lose all unpredictability to transform themselves, as the brand itself explains, "color ranges that are meticulously controlled and printed on luxurious silk and satin which is then ironed and pleated and on refined knits, original technical fabrics and fine leathers". Now that the collection has arrived in stores and online, Prada has published a video making of to show the technique used to obtain those hypnotic nuances.
The steps, once you get the right materials, are simple enough that many have tried to make the tie-dye by themselves, as nss has shown in a recent tutorial: white knit, rolling, elastic, coloring, drying, washing and ... voila, that's it.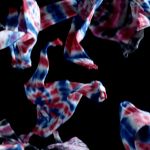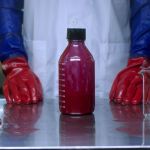 Abstract and magnetic shapes graphic motifs appear almost by magic, ready to invade our wardrobe with a new attitude poised between indie, street and couture.