Meet the artist behind Balenciaga's latest campaign
We spoke to Yilmaz Sen, the author of those trippy viral videos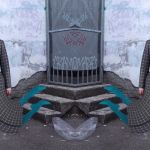 During the last PFW, French streetwear label Balenciaga transported their audience with a runway video tunnel of computer generated imagery to debut their Spring 2019 collection, this was a collaboration with digital artist Jon Rafman. For their latest campaign, in consistency with the theme of a technologically warped reality, the fashion house staged a collaboration with 30 year-old Turkish artist Yilmaz Şen. The campaign is a series of videos featuring 3-D models wearing full Balenciaga looks who are initially staring towards the camera, and then begin to contort into unnatural positions. "My intention was to create a piece that is a bit shocking to the viewer. I tried to create a balance between creepy and beautiful. Overall I wanted to give them something that they haven't seen before in a fashion video," and so the artist worked alongside Balenciaga in-house stylist Lotta Volkova to create the series of 3-D videos.
We took some time to chat with the artist behind the work.
Where did you study digital art?
I have a product design and traditional art degree but I have no academic education in 3D animation of VFX, I taught myself these trades.
Did Balenciaga approach you with the idea for the campaign or is it a concept you collaboratively work through?
They approached me with some of my previous work that they already liked. So I decided to do something similar but with a new twist. They came up with a starting point and gave me the freedom to do the rest.
What has been the general public response so far to the campaign?
There are mixed reactions to it. Some people are embracing it and finding it cool, while some are pretty offended by it for some reason. I'm happy with both, I read both types of responses with a smile.
Are you a street style fanatic or an enthusiast of the fashion industry?
I wouldn't like to call myself an enthusiast, but I do follow some brands and designers that I find creative and inspiring.
Has this collaboration sparked your interest to work with other fashion brands?
Yes I am very much interested to collaborate with brands within the fashion industry, just as long as I have the freedom to stay creative and original content.
What's one fashion label that you haven't worked with would love to?
I would really love to work with Rombaut, and also Vetements, but that one might be tricky after working with Balenciaga.
Are there any fashion collabs you're currently working on that we can look out for soon?
Yes I am working some exciting projects right now, but I can't give out details yet, we'll have to wait a month or two.