Stefano Pilati returns
RANDOM IDENTITIES is the new solo project of the ex head designer of YSL and Zegna.
Stefano Pilati has never been a nightlife designer, a frequenter of clubs or famous for his private life, but when he moved from the creative direction of Agnona in 2015, he based his work in Berlin. The German capital inspired the latest solo Milanese designer project. Berlin DNA is strictly connected to the clubbing culture, that feeds the culture and even the subcultures. The freedom of music and arts allows forming non-schematic personalities. This is why Pilati call his capsule collection RANDOM IDENTITIES. The concept of randomness refers to peoples who live a space not defined by trends, design or cultural dictates, but an own and independent way to live a surrealistic life, overcoming gender distinctions.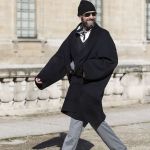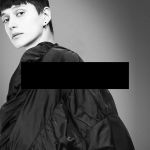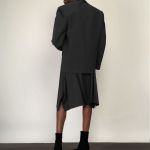 We have had an idea about a possible Pilati's return to the runways during the last Paris Fashion Week after having seen him in the first row. All the 17 total black and obviously unisex outfits have walked in an office in Montreal, among desks and computers, staying true Pilati's style, showed even during the 8 years as Head designer at Saint Laurent, when he replaced Tom Ford. The collection is inspired by the black and white photographies of George Dureau and Robert Mapplethorpe. In the shooting male models pose expressing a strong sense of gender ambiguity, exactly what RANDOM IDENTITIES wants to do.
We recognize Pilati background in the tension between classicism and newness, between orthodoxy and freedom, respecting the tailoring tradition. He still is devout of fashion. These concepts are the basis of the Pilati's polemic about fashion, he thinks that nowadays many designers haven't a method and respect for the fashion legacy and they are only goods entertainers. Pilati invites us to freedom and scandal, and, as he said: "Chic cannot be sold, but definitely suggested".