StockX, the world's first reselling stock market lands in Europe
With an authentication center in London
Every sneakerhead, every shoe enthusiast, every collector, even those who are simply looking for a pair of shoes, has at least once in their lives visited the StockX website. After having conquered the American market, the world's first reselling stock market arrives in Europe too. In London, in fact, the first European authentication center has opened its doors: as in the Arizona and Detroit facilities, a team of local authenticators will make sure that every sneaker and every item of streetwear sold and bought on StockX is verified authentic. A physical store, moreover, will reduce seller shipping costs and will make payouts faster.
StockX is the most important reselling platform in the world, a place to sell and buy sneakers, streetwear items and accessories: buyers and sellers are connected directly, offering bids and asking prices just like in the real stock exchange. Founded in 2016 by the sneakerhead Josh Luber, the website processes more than 10k transactions per day, worth more than $2 million per day in total marketplace sales. Impressive figures, that give perfectly the idea of how much the reselling market has been growing in the last few years and how it's still growing, now ready to consolidate in Europe as well.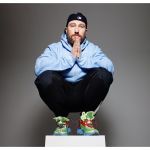 On StockX you can find not only the newest adidas Originals and Nike sneakers, but also grailed and historic silhouettes (there's a vast Air Jordan collection), bags and accessories by Louis Vuitton, Chanel and Gucci, as well as the most coveted items of Supreme and Palace Skateboards. Now StockX can count also on a number of new investors, including Karlie Kloss, Eminem and Mark Wahlberg, and a $44 million USD investiment fund, the starting point of a global expansion.
The official launch of the first StockX European authentication center took place yesterday in London, at Victoria House, and it was also an occasion to celebrate the already impressive success achieved. A crowd of sneakerheads took part in the event to see with their eyes iconic sneakers like the Yeezy 750 or the Yeezy 350 Zebra, or to find out which are the most desired sneakers on StockX.