1017 Alyx 9SM Paris Fashion week show
Hi-tech dystopia
Yesterday evening saw one of the most highly anticipated runways of the Paris fashion week, that of Matthew Williams's, Alyx, or 1017 Alyx 9SM which the brand is now known as, after adding October 17th, for William's birthday, and the address of his original studio, 9 St. Marks Place, in New York City. It was the first runway show for the brand ever, which at only four years old inhibits a position of hype a respectability that few other brands do at the moment. Beyond the core collection there was also the hope of seeing more of his upcoming Nike training line collab which will we be releasing July 12th, and taking full advantage of the occasion Williams also opted to show off the 1017 Alyx 9SM women's collection.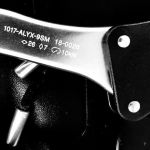 The event was packed with the menswear fashion crowd's most recognizable figures, which took place in a stark basement space of an abandoned building in the Bercy area, at the twilight of Paris fashion week. William's presented a very strong collection, with an
ultra fine-tuned sensibility that perfectly combines tech wear and street with a high fashion execution, in a hi-tech dystopian aesthetic.
This evening "was meant to really present what we've built, the things that define the DNA of the brand" MMW stated.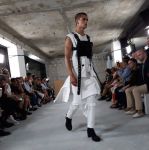 Which he certainly did, the collection saw clean-cut jackets, blazers, shirts, tops, T's, pants and dresses, in a lot of classic black and white, but also quite a few pieces in various shades of lime green and an occasional turquoise. 1017 Alyx 9SM is very much about its details, and the pieces were often embellished with inventive zippers, and
Alyx's signature rollercoaster clips on bags, and belts
. Which also saw the presentation of a
new clasp
that most closely resembled those seen on heavy-duty mountaineering gear. The wild card of the collection was the appearance of snake print on a few tops, bottoms and shoes.
As hoped we also saw more of the Nike collab, mainly in the form of acid washed t-shirts, but also a few caps and tops. A highlight was a glimpse at the upcoming Nike sneakers, that with their martial arts meets hiking shoe inspired silhouette looked extremely cool.
In conclusion, one can only say that this was a very strong showing from Williams and without a doubt one of the absolute best of Paris fashion week.
Have a closer look at the collection below: