Welcome to the KICKIT
From Rome to Europe!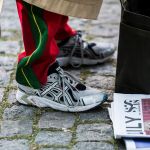 This April 8th will be held at the Officine Farneto in Rome, the second edition of KICKIT, the first Italian market dedicated to sneakers and streetwear. Sneakerheads from all over Italy will make an appointment for a no-stop from 11 am to 11 pm which will bring to Rome the most prestigious brands together with the most interesting and original Italian and international brands, for a European event that not only sneakers as an object to wear, but as a central element of a phenomenon of custom that involves all forms of art, from music, art, cinema, entertainment.
Founder of Kickit is Fabrizio Efrati, owner of I love Tokyo in Via dei Giubbonari in Rome, a store that for years has been an important reference point for streetwear enthusiasts and that boasts a long traditional family in fashion and anticipation of new trends, with an eye towards the States. From this passion and from the attendance of European events such as Sneakerness, the most important European sneaker market, KICKIT was born. Eighty sellers, all the latest news and trends of the urban style, along with rare vintage pieces and an area dedicated to young people. Kickit is not just a market, it is a real event that combines the streetwear 360 °, starting from the DJ sets that will accompany visitors for the duration of the event.
Guests include the great Portuguese illustrator and designer Laro Lagosta, who will present a tee specially designed for the event and available for purchase in a limited edition of 100 copies and the web influencer and collector Selma Kaci Sebbagh.
Another element present at the event will be the food & beverage with Birradamare, the main sponsor of the event, six trucks for street food and the food specialties of "Il Secchio e l'Olivaro". During the day of April 8, visitors can participate in various raffles with the chance to win a trip in New York a few steps from the Supreme boutique, a pair of Yeezy, Nike prizes and much more. Kickit is realized in media partnership with nss Magazine and in collaboration with Asics, main sponsor of the event.
NB: A special guest is rumored...