The new LOVE Magazine's Advent Calendar 2017
Emily Ratajkowski, Kendall Jenner and Ashley Graham will not be afraid to show off lingerie and their strength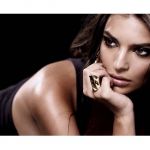 December has arrived and this means only two things: 24 days are missing at Christmas and the 'LOVE Advent calendar' is coming.
The sexy London magazine indeed, for a good 31 days will make us dream with some of the most beautiful and influential women of the year, which, for the occasion, will give vent to their femininity and sensuality. Armed with lingerie and beauty, the protagonists will show off their strength, the power that each has and is not afraid to demonstrate and use.
"I'm tired of having to consider how I might be perceived by men if I wear a short skirt or post a sexy Instagram. I want to do what I want to do." says the actress-model Emily Ratajkowski.
In fact, she will be one of the protagonists of the LOVE calendar, along with other well-known faces on the international scene such as Kendall Jenner, Gigi and Bella Hadid, Jourdan Dunn or Ashley Graham.
Sexy = Sweet
Sexy = Strong
Sexy = Woman
On November 30th a short trailer of what awaits us for next month has been released on YouTube, and have you already seen it?
Day 1 - The Compilation