Maison Margiela SS18: construction, deconstruction and travel
On the catwalk of the Grand Palais of Paris on the backdrop of airport announcements
It has been almost two years since John Galliano, after the troubled events that led him to lose his job from Dior, came to Maison Margiela.
A return that seems to have brought a balance in the designer's career, which, among the anonymous files of the brand team, found the need to reduce excesses, especially and above all, of style, to look at nature, to build clothes. Galliano began playing with the minimal and conceptual codes that made Martin Margiela famous, layering materials, epochs and styles, modeling, deconstructing the garments to show the backbone and, as in the SS17 collection, the SS18 is the natural evolution of that Fall 2017 Couture, English scuffles, tears, reinvents every creation.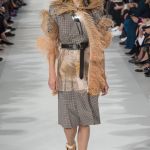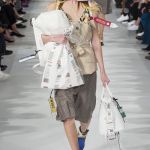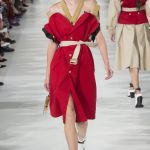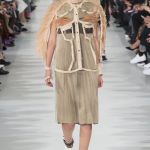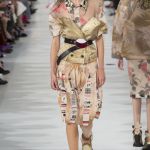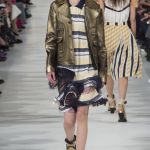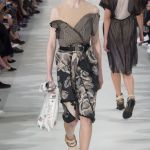 The classic beige trench coat is the key piece from which to tell an idea of glamour unconscious. This iconic outwear garment, stripped of its pieces, turns into a bustier dress, ornamented with feathers or, left orphan of each element, remains a pure skeleton. They have the same decortiqué destiny as the oversized tee, reduced to a plumage cage, the chivalrous jacket that re-emerges as a bustier, the jodhpurs transformed into shorts, the gold-plated dresses made of plissé soleil, the organza ones overlapping one another creating transparencies of petals or a pleated skirt with the open sides that reveal a series of luggage identification tags.
Because in addition to deconstruction and reconstruction, the other inspirational theme of the collection is the journey.
On the Grand Palais catwalk of Paris, in the background with a soundtrack composed by airport ads, models dressed by Galliano, are emancipated, easy women, globetrotter using every moment to take care of themselves, with a atypical glamour made of unusual elements, sponge cloths, Glam Slam aka pillow-shaped bags, luggage labels spinning everywhere, night masks and cervical cushions.