You can now see the complete archive of Raf Simons' fashion shows
From his collection of debut from 1995 until FW17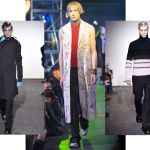 If New York Men's Fashion Week has an important protagonist in the midst of a series of little-known brand that is certainly Raf Simons.
On the occasion of his last show, Vogue celebrates the iconic designer creating a complete online archive where you can see every piece he created for his eponymous label, from his debut collection in 1995 to the last.
Four of the last shows added:
#1 SS98 a praise of the dry style, influenced by Kraftwerk;
#2 SS99 with the search for an ever more pure form;
#3 FW01 in which Raf introduces bulky and oversized silhouettes;
#4 SS03 a dark treatise on the culture of consumerism.
Every work is a piece of fashion history, from the MA-1 jacket to the dramatically pleated high waist trousers.
Because, as A$AP Rocky pointed out well in a Time article that put the Belgian designer among the 100 most influential personalities of 2017:
"I feel like Raf Simons is important for the culture based on the fact that he built a whole new religion around fashion… When you wrap your mind around the concept that he wrote the future of fashion and design in the 1990s and early 2000s, then you'll also understand why Raf is the greatest to ever do it".