Everything you need to know about CFDA Awards 2017
5 imperative moments of the "Fashion Oscar"
Last night the annual "Fashion Oscars", the CFDA Awards 2017, the awards ceremony of the Council of Fashion Designers of America, have taken place at the Hammerstein Ballroom in New York.
The evening was a full of celebs and very popular faces of fashion, and, like any good fancied event, fabulous dresses that walked the red carpet. An event that has celebrated fashion at 360 °, rewarding the most talented names in the international scene and paying homage to those who have made their profession a passion that is a source of inspiration for many others. Among the winners are Coach's Stuart Vevers (Designer Designer of the Year), Laura Kim and Fernseh Garcia of Monse (Swarovski Award for Emerging Talent), Path McGrath (Founders Awards) and Rick Owens, awarded with the prestigious Geoffrey Beene Lifetime Achievement Award.
But that was just a hint, here's all you need to know about CFDA Awards 2017.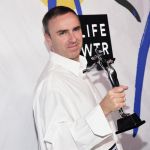 The Belgian fashion designer won both the Menswear Designer of The Year prize and the Womenswear Designer of The Year, a milestone that was reached once before him by Calvin Klein in person in 1993.
"If we as creatives can be an inspiration for how the world should look. I think that it's something we should take as a very important task in our existence",
Raf Simons said on stage.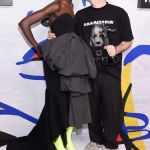 Vetements and Balenciaga's creative director won the International Award, presenting himself on stage with a Rammstein band t-shirt and a black cap.
"I could never do this job without such a fascination of how clothes can change us and how we can use them as powerful tools of innovation and self-expression",
Demna Gvasalia said.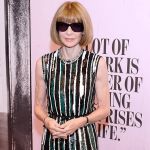 The director of Vogue Italia, who disappeared last December, was awarded the Fashion Icon Award to celebrate the passion, determination, and vision of her work, which will hardly be forgotten. Anna Wintour rewarded Franca Sozzani – which paid homage to the colleague with a touching speech.
"Franca and I were thrown into each other's lives quickly, when we were hired to lead our magazines the very same week, but we became friends slowly, in part because both of us were independent spirits, each unsure of what to make of the other. We circled each other for years, like jungle cats. Frankly, I was really intimidated by all that glorious hair. It was only after extraordinary issue after extraordinary issue of Italian Vogue that I began to realize not only what a brilliant editor Franca was, but how generous and playful her imagination could be".

# 4 Janelle Monae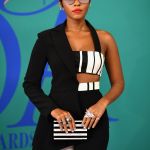 The singer and actress was honored with the Board of Directors award for her contribution to Women's March. On stage, Janelle Monae held a five-minutes speech in which she recalled her experience at Women's March and the importance of mutual respect.
"I think about that historic moment at the Women's March, and I was scared. When you have thousands of people looking at you like, 'Yeah, give us something,' it's a scary feeling. But when I think about that march on Washington, I'm reminded of all the faces I saw from different walks of life. Young, old, gay, straight, different religious backgrounds, it didn't matter, they were together as human beings. And that's the one thing that left with me. I'm reminded that as human beings, it's our responsibility to take care of one another. Women's rights are human rights. LGBTQ rights are human rights. Poor folks' rights are human rights. Immigrant rights are human rights. Minority rights are human rights. So as human beings, let's never forget that none of us are free until all of us are free".

# 5 Red Carpet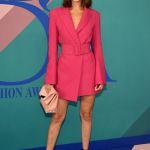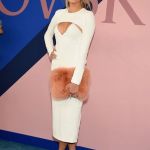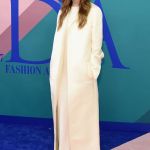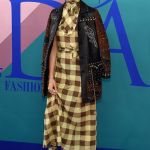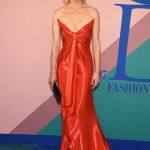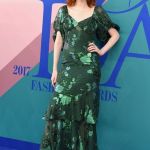 Could we not take a look at the red carpet of the fashion Oscars? Obviously not. Dreamy dresses took off at the CFDA Awards 2017, worn by very special "models". Gigi Hadid wore a "monk-like" dress by The Row, while her sister Bella Hadid featured a dress-jacket by OFF-WHITE. Amber Valletta has not gone unnoticed with her beautiful red dress by Oscar de la Renta, as well as Janelle Monae with her complete black-white by Christian Siriano.