The Weeknd announced the opening of a series of Starboy's pop-ups
This weekend, an exclusive set of openings dedicated to Starboy's merchandise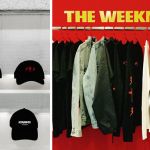 This weekend will exclusively feature the opening of a series of pop-up stores dedicated to the merchandise of the Canadian singer's album Starboy.
The event will cover eight different cities including New York, Los Angeles, Toronto, and Vancouver. The opening is scheduled from May 5 to May 7.
Among the available items are bomber jackets, graphic jerseys, sweatshirts and caps featuring The Weeknd's XO and Starboy logos.
Here are the lucky cities have chosen to hang out the event!
Patron of the New
151 Franklin St,
New York, NY 10013
424 on Fairfax
24 N Fairfax Ave,
Los Angeles, CA 90036

RSVP Gallery
1753 N Damen Ave,
Chicago, IL 60647
The Webster
1220 Collins Ave,
Miami Beach, FL 33139
The Webster
5045 Westheimer Rd,
Houston, TX 77056
Nomad
819 Queen St W,
Toronto, ON M6J 1G1
Roden Gray
8 Water St,
Vancouver, BC V6B 2K8
Rooney's Boutique
395 Notre-Dame St W,
Montreal, QC H2Y 1V2