Win Trussardi with Coca Cola Light
#ElegantlyCool
There's more news from the collaboration between Trussardi and Coca Cola Light.
By taking a picture which portrays the three limited editions of Coca-Cola light by Trussardi in a #ElegantlyCool mood you can win an invitation for an exclusive Trussardi party and an outfit signed by Trussardi. You just have to take a picture with the hashtag #ElegantlyCool in a lifestyle context like fashion, food, art or design. The pictures will have to be posted on www.elegantlycool.it where they'll be visible in a gallery all the contest long and will be voted by users.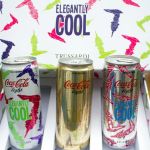 Within October 30th 2015 the 60 most voted pictures will be judged by a group of experts with will vote them considering originality, style and coherence to the theme.
The pictures can be posted until December 31st and there will be two winners: a boy and a girl with different outfits.
Our Patricia Manfield and Giotto Calendoli explain you how to do in an exclusive video by Trussardi. Let's get inspired!