10 hype accessories to decorate your home
#STAYATHOME, but make it fashion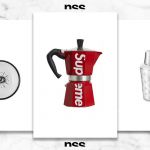 Stay at home: this is the warning that we've been hearing for over a month now. To face the spreading of COVID-19, the entire world has been placed under lockdown. In these days of quarantine, while we're forced to stay home, between the episode of our favourite series on Netflix and the listening of a playlist on Spotify, many took the chance to tidy up their apartments (spring cleaning never came so early).
If you're feeling already bored of staring at all your four walls, don't despair: the web is full of wonderful items to decor your homes (or rooms for rent) and give them a new touch. In fact, even Carhartt released some new home accessories that you don't want to lose. Still, there are plenty of choices: from the unique Louis Vuitton shaker to the Supreme brick (yes, it's a thing), going through the cult selection of IKEA X Virgil Abloh, it's time for some online shopping.
Here's nss magazine selection of the 10 Hype Accessories to re-decorate your home: #STAYATHOME, but make it fashion.
STÜSSY WELCOME MAT

TOILET PAPER CUSHION SHIT

PALACE ASHTRAY

VIRGIL ABLOH X IKEA MARKERAD
"TEMPORARY" WALL CLOCK

CARHARTT BENE BIB APRON

SUPREME BIALETTI MOKA EXPRESS RED

SLAM JAM SPEECH BUBBLE RUG

SUPREME CLAY BRICK RED

GUCCI STAR EYE TRINKET TRAY

LOUIS VUITTON SHAKER
Finally, if you don't know how to spend almost 1.000€ of your paycheck, the Louis Vuitton monogram blanket has become a must-have for every fashion-addicted. It's not quite affordable but never say never.
LOUIS VUITTON NEO MONOGRAM BLANKET