Wes Anderson will organize an exhibition in Vienna with his wife Juman Malouf
The couple can immerse themselves in the historical/artistic Austria's heritage
Think big and in color.
Following this philosophy you can create great things and become visionaries, almost like Wes Anderson...but Wes Anderson is Wes Anderson. This creative genius has distinguished the director for his incredible ability to imagine scenes, to combine shapes and colors in a unique way. It is not by chance that he was selected to project the exhibition of the well-known Kunshistorisches Museum in Vienna. An honor that will share with Juman Malouf, famous illustrator and writer, Anderson's wife, known also as the probable muse of the revolutionary Gucci style - as mentioned by Vogue - for her Victorian fashion tendency all flowers and colors.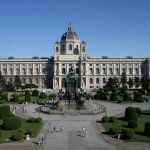 Indeed, the couple can immerse themselves in the historical/artistic Austria's heritage, among Greek-Roman pieces, musical instruments, armor, medals, coins, carriages and much more, to give life to an exhibition that not only replays the country's assets but also their creativity, their vision of the whole.
The exhibition will be open to the public from September 11, 2018 to January 20, 2019.