New emojis will feature a woman wearing a hijab
Along with a breastfeeding woman and a naked person in a sauna
Emojis are every day more on their way to be an exhaustive representation of today's society.
After the emoji of the LGBT movement's rainbow flag, those portraying same-sex couples and different skin-coloured figures engaged in the most diverse of activities, the 2017's adds are gonna make an even louder stand.
After a long and complex process of approval, it's just been announced the next update will include – along with a brand new series of classic yellow smiles – a breastfeeding mother, a naked person in a steamy sauna, a bearded man and a Muslim woman wearing a hijab (officially named "person with headscarf").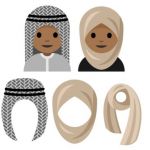 For this last emoji, it looks like we have to thank 15-year-old Saudi girl Rayouf Alhumedhi, who, drafted the proposal for a very similar emoji to the Unicode Consortium after a WhatsApp conversation with her friends in which she reckoned she was struggling to find an emoji she could identify with. "I wanted something to represent me, alongside the millions of women who wear the headscarf every day, and pride themselves on wearing the headscarf."