How TikTok landed on the Sanremo stage
The music industry has found a new money-making machine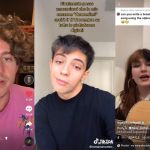 When we talk about TikTok, the first thing that comes to mind are the hundreds of videos of dances, trends and incredibly cuddly dogs doing funny things. In reality, in that mine of memes and catchphrases, lies the new gold mine of the music industry, which in the algorithm of the social network has found the new infallible formula to build its successes of tomorrow. Matteo Romano, born in 2002 in Cuneo, was able to go from TikTok to the stage of the Sanremo Festival, starting from some covers uploaded online to reach 5.5 million likes on the platform after one of his songs, Concedimi, had become one of the most used audios by the Italian community. The audio, the music used within the trends often unrelated to their authorship, is perhaps the main method of "unintentional celebrity" within the platform, capable of bringing success to new songs as well as to restore importance to old glories. Just the Two of Us by Grover Washington Jr. is perhaps the best example of this mechanism with over 749 thousand videos for a song published in 1981 and returned to fame thanks to the incomprehensible algorithm of TikTok and dozens of remixes available on the platform, which between a "slowed" version and another "reverberated" have transformed the song winner of the Grammy for Best R&B Song in 1982 in one of the Gen Z tormentones.
But while there is such a thing as "unintentional celebrity," the music industry has managed to create one that is decidedly more voluntary, if not downright studied. Have you ever heard Gayle's abcdefu? Before becoming a hit on radio stations all over the world, the Texan singer was a tiktoker in search of success. Success came suddenly, when among the answers of a TikTok in which she asked for ideas about her next song, someone suggested to write a "breakup song using the alphabet". That someone was Nancy Berman of Atlantic Records, the label that would later become Gayle's label, bringing to fruition a masterfully executed digital marketing effort. Something similar has been done by Charlie Puth, who from the height of successes such as See You Again and several Grammy nominations has used TikTok to tell the genesis of his next album in a series of videos in which the incipit "What if there is a song" was transformed first into a meme and then into the winning formula that led Light Switch, the first single from the new album, to gain a million streams in less than an hour. Puth's stunt, in which he pretended to compose in a few seconds the new songs of the album, worked because it was based on something that no other social network has outside of TikTok: spontaneity.
Since its first success, what made the difference between a post on Instagram and one on TikTok was the perspective, the way the same story managed to appear in two completely different ways. If Instagram has accustomed us to an often fictitious, post-produced reality in which appearing remains the main ideal, TikTok has always stood out for its spontaneous nature and ability to tell reality in a more direct way. "TikTok has become an essential point in artists' storytelling," Universal Music Group's Kristen Bender told Insider, highlighting how the advent of the former Musically has revolutionized the way we think about and promote music. Songs that have gone viral on the platform are very likely to end up in the Billboard 100 and Spotify Viral 50, while 67% of users who use the app are in the habit of searching on streaming services for songs heard on TikTok. Also for this reason, among the new promotional strategies there is that of making agreements between record labels and creators to use some songs within TikTok. A radical change in which everyone comes out a winner, turning Gen Z's favorite social network into a money machine for the record industry. "Music marketing is huge on TikTok," said Jesse Callahan, founder of marketing agency Montford Agency. "This is how labels have been able to bring artists to success in recent years, but it's also how creators have been able to make a lot of money."