10 couples gifts for Valentine's Day
Because love means sharing everything, even gifts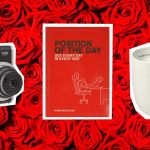 Pills
February 11th, 2021
Like it or not, Valentine's Day is almost upon us.
The most hated party of the year has always been an opportunity to give and receive gifts from your loved one, to show your affection with a unique and special gift, but it's also that moment when the dreaded question starts spinning around in your head:
"What gift?"
But isn't loving each other also sharing?
For this reason, nss magazine has chosen ten couple gifts for you, something to use in shared moments but also to make a gift that is useful for both.
From a yearly Disney+ membership for chill nights to a book on the most extreme positions for the hottest ones, why not gift a cooking book for candlelit dinners?
If you prefer cuddling, you can choose a blanket, perhaps to use together with your new set of scented candles.
In short, no matter what kind of couple you are, the right gift is right here.