The sexy costume for Halloween of The Handmaid's Tale
Users of social media definitely do not approve
It is true that originally, during the Halloween party, monstrous masks and costumes were worn to frighten or camouflage with the spirits who, during that one night a year, joined the world of the living and wandered undisturbed on Earth, but perhaps the thing has gone a bit too far.
Many users of social media have raged against a costume for the eve of All Saints depicting a sort of sexy version of the protagonists of The Handmaid's Tale, the popular TV series based on a novel by Margaret Atwood. If Yandy, the company that sells for $ 64.95 the kit including a short red dress, a red cloak and a white cap, declares that the "Brave Red Maiden" costume is a sort of viatic for female empowerment, one way to be bold and express your opinion, many are of opposite opinion. Over time, the uniform worn by Offred and the other women of Gilead, treated as a state property and forced into sexual slavery, has become a symbol of protest against oppression, both between the #MeToo movement and other causes. related to the female condition. Do you remember women on the Isle of Man, in Argentina and Northern Ireland having this outfit to protest against their restrictive abortion laws? Or those in Missouri, where people opposed plans to cut off Planned Parenthood funding?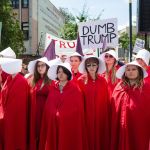 So, commenting on the product of Yandy, now withdrawn from the site, many users of social networks wrote sentences such as "Our society doesn't take the rape of real women seriously, why should they take the rape of fictional women seriously?" or "nothing like a sexy rape victim for Halloween fun". Yandy's choice was certainly not very far-sighted and sensitive, what do you think? Do you share the thought of the web or do you think it's just a superficial and playful idea loaded with too much meaning?
A fun fact: a sexy version of The Handmaid's Tale costume was worn by Debra during a Halloween party, in an episode by BoJack Horseman.