Nintendo launches the Mini SNES Classic Edition
It will include vintage-cult games like "Super Mario World" and "The Legend of Zelda"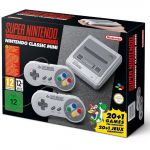 It's official: Nintendo has confirmed the release of the mini SNES Classic Edition, scheduled for this year.
The console will conquer the heart of all the romantic nostalgic gamers, because, among the its 21 games included, there will also be some vintage-cults games like Super Mario World, The Legend of Zelda: Link to the Past, Yoshi's Island and Earthbound, but the real surprise is Star Fox 2, the unstoppable sequel to Star Fox.
Other games that will be available on the Mini SNES Classic Edition are Final Fantasy III, Street Fighter II Turbo: Hyper Fighting, Contra III: The Alien Wars, Donkey Kong Country, F-ZERO, Kirby Super Star to name a few.
One of the news of the console is its ability to link it directly to the television, allowing players to play their favorite videogames on high-definition screens. Furthermore, for Europe-only a special edition of Mini SNES Classic Edition with the same design as the Japanese SNES will be released.
The Mini SNES Classic Edition will be available on September 29th, 2017 at $ 79.99.