Nintendo presents ARMS for Nintendo Switch
The new Nintendo fighting game in which the player uses extensible arms to send their opponents to the rug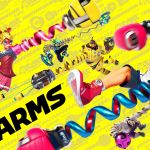 On May 31st in the ring of the Teatro Principe in Milan, the Italian-Ukrainian Maxim Prodan and the super-heavyweight Donatello Perrulli challenged in a match with ARMS, the new Nintendo fighting game.
Taking the Joy-Con of the new Nintendo Switch console, will it really be like being on a ring, dodging attacks and stomping rivals?
Maybe more fun and less risky, but what is ARMS really?
The game that intends to revolutionize the eSport's world is based on a unique combat sport in which the player uses extensible arms to send their opponents to the rug. The wrestler moves in line with the hands of the player as he throws a wide range of punches as if he were a true professional. One of the strengths of ARMS is the ability to play multiplayer, both locally and online, in addition to dozens of weapons, each with a unique ability.
From fists to missiles, there is a wide variety of offensive and defensive attacks and options. More? Different characters and a lot of play modes to challenge other wrestlers.
ARMS will be exclusively available on Nintendo Switch from June 16th.