5 things you should know about 'Famous'
Kanye West's new video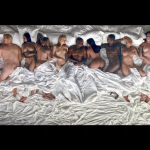 Some days ago Kanye West has hosted a world premiere party in Los Angeles for the launch of the new video for his track Famous. As expected, Kanye rocked the Web by making a video-shock which caused much discussion.
In short: the video shows 12 very, very popular people (George W. Bush, Donald Trump, Anna Wintour, Rihanna, Chris Brown, Taylor Swift, Ray J, Amber Rose, Caitlyn Jenner, Bill Cosby e, ovviamente, Kanye West and Kim Kardashian, of course), all sleeping together in the same king-size bed, naked.
Attention: no one was harmed during the making of this video! In fact, some people in the video (but who?) are just creepy hyper-realistic wax dolls and this made us all crazy.
But what should you know about the most controversial video of the moment? Below you can read what Kanye West revealed about it during an interview for Vanity Fair.
#1 George W. Bush?
On former US President, which once was accused by Kanye West of not caring about black people, the rapper said: "Maybe in some alternative universe me and George Bush could have been friends. I could have been his O.J. Simpson black friend on the golf course".
#2 Bill Cosby?
Once Kanye West tweeted:""BILL COSBY INNOCENT !!!!!!", however the rapper explained that: "It's not in support or anti any of [le persone nel video]; it's a comment on fame". So, it's not an endorsement for the actor accused of sexual abuses.
#3 Inspiration
The video-performance is inspired by America artist Vincent Desiderio's Sleep. An other source of inspiration could also be Matthew Barney, the artist famous for his use of living sculptures in his works. Kanye West said that Barney is his "Jesus".
#4 The making
The making of the video required three months, four different formats and several different collaborators before Kanye West was satisfied of the result. The final effect had to confuse the public about the real nature of the persons on the tableau. This ambiguity is the core of the message he's trying to say about the myth of contemporary celebrity. They also were very careful to not show sexual posturing, because the group had to appear vulnerable, strangely peaceful, making a quasi-religious atmosphere.
#5 And Taylor Swift?
Rumors said that the singer (that with Kanye West have bad blood, we know) has allegedly been left "horrified" and "livid" after the view of rapper's new video. The source would have also said: "She is bewildered, feels betrayed and is beyond frustrated with Kanye. It is like a complete nightmare. Taylor is pissed to say the least".
If the Taylor Swift's reaction is real or not we don't know that for sure. What is certain is a lot of celebs, after seeing the video-performance of Famous, commented: "They want to be in the bed". So Kanye West has spoken.