Kanye West New Testament Album
Rumors are fake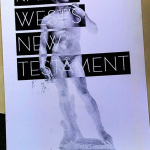 We are all anticipating the release of the new album of Kanye West, which we hope to be able to listen to this summer. Wave of enthusiasm seems that someone is trying to take advantage of this whole situation. Turn to the network a postcard announcing the upcoming release of the new album by rapper, New Testament, on June 10.
We have no idea what it is, definitely false, but better to find out what's going on in the next few days.
Do not worry about the output of the real album ... remember, beautiful things come to those who wait!