The complete story of ASAP Rocky's arrest
Donald Trump, Kim Kardashian and Kanye West: what really happened
UPDATE: During today's hearing, held in Stockholm, ASAP Rocky has officially been charged with assault in connection to the incident that went down in the Swedish capital city last June 30th, and despite claims of self-defence and provocation. Flackho will, therefore, remain in jail.
TMZ was the first media to report the news that Kim Kardashian (after a request coming from her husband Kanye West) had contacted Jared Kushner to talk about ASAP Rocky's situation. Kushner is Donald Trump's son-in-law, husband of his daughter Ivanka and also senior advisor of the President. He had the chance to meet and collaborate with Kim Kardashian thanks to his wife, and their work was fundamental because of the First Step Act that passed in the Senate with bipartisan support. It was one of Kushner's major victories, and also one of the results of Trump's Administration. The fact that Kim was a fundamental part in bringing the President by their side revealed to the world a new side of Kim, not the reality tv star or the influencer, but a self-made lobbyist.
A few days later Donald Trump spoke - for the first time - publicly about ASAP Rocky, explaining that he doesn't know the rapper in person, but assuring that he has all the support from all over the afro American community, also underlining he became aware of the situation thanks to
his friend Kanye West
. It's quite strange to hear Donald Trump speak in name of the "
afro American community
", especially during these times when the major topic in the USA is his racist tweets against four new congress-women (Alexandria Ocasio-Cortez, Ayanna Pressley, Rashida Tlaib and Ilhan Omar) known as The Squad. On Saturday, July 20th, Trump tweeted about a productive chat with the Swedish Prime Minister about the ASAP situation, and he also wrote to be ready to guarantee for the rapper's bail. A bail that's been denied due to the risk that Rocky may fight away. It is then helpful to try to understand what really happened.
Last June, 30th, Asap Rocky and some of his entourage engaged in a fight. Rocky, who was in Sweden for a gig as a part of his European tour (that should've also stopped in Milan, but was instead cancelled) was shot in a video where he kicked and hit a man. A man who - according to Rocky's version - was the first to attack his crew. It was - according to the rapper's legal team - a matter of self defence. Then Rocky went to the police station on July 1st, and then never came back. From that point on, a lot of confusing news kept coming: at some point it seemed that Rocky was detained in "inhumane conditions", without his basic civil rights. Tyler, The Creator and Schoolboy Q announced they were going to boycott Sweden, while Quavo from Migos also spoke up about a similar episode had with the Swedish police. A petition was also launched on Change.org, a hashtag (#Freeflacko) and also the Black Caucus - the caucus made by all black congressmen and congresswomen to address issues connected by the race - called into action Mike Pompeo, the Secretary of State.
It's not hard to imagine why the POTUS is interested in the Rocky case: ASAP is one of the most popular rappers on the planet and also one of the less politicized, even though he expressed his support for Hillary Clinton during the 2016 elections, and he also rapped in Distorted Records - a track from his latest album Testing - My newest President an asshole. In the same year, Rocky was the protagonist of a big debate on the Black Lives Matter Movement, which he was called a "bandwagoner" ("because every life matters"), along with having called Bill Cosby innocent. During this period of detention, there were many comments, like the one by rapper T.I., saying that this experience will change Rocky's perspective on black activism, implying racial reasons behind his arrest. It's not true - as some Italian newspapers have reported - that ASAP Rocky is a Trump supporter, not more than the entire rap world was before he announced he was running for office. That was the exact moment - as recounted also by rapper Vic Mensa - when the black rappers' perception of Donald Trump changed radically. And it's not true, as reported also by Italian and English press reportedly quoting some Swedish media, that he will shortly be released. The Swedish Prime Minister has stated through a spokesman, that the Swedish justice system, the prosecutors and courts are completely independent. He also highlighted that everyone is the same for the law and that the government can't and won't influence the decision of the court. We'll know something more on July 25th, the day of the hearing.
Just spoke to @KanyeWest about his friend A$AP Rocky's incarceration. I will be calling the very talented Prime Minister of Sweden to see what we can do about helping A$AP Rocky. So many people would like to see this quickly resolved!

— Donald J. Trump (@realDonaldTrump) 19 luglio 2019
So then why has Donald Trump taken this whole story to heart? The answer is of course linked to the upcoming elections and to his electoral liking. After the encounter with Kanye West back in 2018, Trump announced that he had doubled his approval ratings among the Afroamerican community, "from 11 to 22%". That statement was actually false, or at least incomplete since it took into account only Afroamerican men. Nevertheless, it's this kind of narration that Donald Trump tackles, in an increasingly harder period for him, where the American politics is becoming more and more radicalised, entering the debate on Rocky's releasing gives him the chance - as long as it happens in a short time - to become the main contact responsible for his freedom. It's hard to imagine if this twist would actually bring him votes, but as he has already proved in the past, all he's interested in is changing the narrative, giving the impression of being not institutional, but direct, close to the people and to their needs, as the ones of their icons.
It didn't take long before Trump's stance would be disputed. Justin Bieber - following Freddie Gibs - exhorted the President on Twitter to 'let those kids out of cages?' referring to the detention centres at the borders where in the last few months children have been separated from their families. Charles M. Blow, a New York Times columnist, wrote 'Look beneath the surface on Trump and this #ASAPRocky thing. Part is that he likes celebrities. But part is that he's appealing to black men. Mass incarceration, block immigrants who will take ur jobs. In 2016 Trump only got 4% of the black female vote; he got 13% of the black male vote'.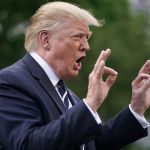 In the meantime what are Kanye West and Kim Kardashian doing and saying? None of them have released any official statements on this matter. Ye hasn't tweeted since January 1st - his last tweet is actually dedicated to Trump - while Kardashian had publicly thanked the President, Kushner and Mike Pompeo on July 19th. Since then Kim was back working on her beauty line, while Kanye hasn't been seen around for a while. It's strange to imagine that what is definitely the craziest political story of the year originated from Kimye, a small proof of their cultural relevance and of how much Trump is willing to do to have on his side one of the most influential and powerful figures in Calabasas, and right now, in America.