"Medellín": the new Madonna video ft. Maluma
Between fetish, dreamlike visions and cha cha cha
Madonna is back. Four years after her last work, the pop star is ready to catalyze the media attention once again with Madame X, the new album set to be released on June 14. After releasing her first single Medellín, a few hours later the artists dropped the video with an event hosted by MTV and broadcasted worldwide.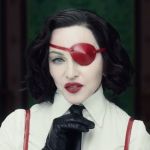 Interviewed by Trevor Nelson, the singer explained the genesis of the project, inspired by the cultural melting pot that animates
Lisbon
, the city where Madonna has decided to live to support her son's career as a football player. She talked about the collaboration with producer
Mirwais Ahmadzaï
, already her partner for the super hit
Music
,
she revealed that she wanted to return to a naive approach to music and life, the same that she had when she was young and free and away from any influence. Then the Queen of Pop also motivated the choice of
Diana Kunst
and
Mao Morcò
, who recently produced videos for Spanish pop star
Rosalía
, as directors for
Medellín
with these words:
I wanted this video to look like a painting. Kunst is influenced by a lot of the same painters and filmmakers that I'm interested in (in this case Frida Kahlo and Leonora Carrington).
The visual starts with a monologue that seems to be a tribute to the period of
Like a Prayer
with Madonna on her knees in prayer, but in reality, it is a presentation of her new alter ego,
Madame X
. A few moments into the video the scenario changes and we find the star teaching cha-cha, with brunette hair and an eye patch, whip and a pseudo-fetish suit. Another few notes and Madonna appears blonde with her cowboy hat and wedding dress (
Like a Virgin
?) at the centre of a crazy and endless party. At her side, while scenes in bed alternate with dreamlike rides through the meadows, there is Colombian artist
Maluma
, with whom she performs a duet of her new single.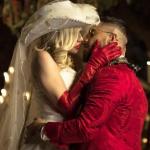 Fun fact: Madame X, the title of her new album, is not a tribute to Lana Turner, the protagonist of a film with the same title, nor to the eponymous painting by John Singer Sargent, but refers to the life of Madonna. This was the nickname by which dance legend Martha Graham called Miss Madonna Louise Veronica Ciccone when, at 19, she was one of her students. It seems that Graham said to her:
Every day you come to school and I don't recognize you. Every day you change your identity.
...extremely true words if we think of the many changes in look and style (musical and otherwise) alternated by the pop star in her long career.
Take a look at the video of Medellín and the interview-event of MTV below.