Kanye West will take his Sunday Service to Coachella
To celebrate at best the Easter Sunday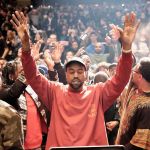 Will Kanye West perform at Coachella 2019? Apparently, yes. The affair was troubled, but now it seems that Ye has made a final decision. Last January, just two days after the announcement of his name among the headliners of the festival, the star had changed his mind refusing to participate in the event because it was not possible to build the gigantic dome-stage he wanted, thus forcing the organizers to replace him with Ariana Grande. Yesterday, however, the news came as a surprise: Sunday, April 21 (Easter), at 9 am, Kanye will bring his Sunday Service to Indio. The confirmation comes from the social accounts of Coachella and, above all, from a video released by Kim Kardashian in which West is seen, aboard a plane, talking to the radio on board communicating to his team the new gig.
At the coolest California festival, the rapper will not provide a classic performance, but he will share one of his now-famous weekly jam sessions with the audience. Every Sunday in recent months, in fact, Kanye has organized a series of travelling musical happenings (from Calabasas to forests outside Los Angeles to adidas headquarters in Portland, Oregon) where he reworks his pieces in gospel version and also offers previews of new works. For example, on the last Sundays, he sang Jesus Walks, Ghost Town, Father Stretch My Hands, and on January 20 he debuted the song We'll Find A Way. To accompany West during these Sunday Service, there are a large choir and many guests such as Kaye Fox, 070 Shake, Diplo, Rick Rubin, Paris Jackson, Katy Perry, Tyler, The Creator and Kid Cudi, wearing all strictly all-white clothes.
Curiosity rises on the Kanye show at Coachella that this year will be held in Indio on the weekends from 12 to 14 April and from 19 to 21 April and will have among its headliners Childish Gambino, Tame Impala, Aphex Twin, Billie Eilish, J Balvin, Pusha-T, Rosalía e Charlotte Gainsboug.