Watch the new documentary on Diplo
Featuring cameos from Tyler the Creator, Post Malone, Justin Bieber and Madonna
Whether you hate him or love him you can't deny the impact the music producer Diplo has had on modern music. From his solo work, his part in the group Major Lazer, or the countless productions for some of the biggest stars on earth, Diplo has shaped the world of pop music more than most, having worked with megastars such as Justin Bieber, Britney Spears, Beyonce and countless others.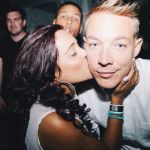 Rihanna
once described one of his tracks as
'a Reggae Song at an Airport'
in an attempt to explain his at times rather bland music sound, which has produced in equal parts hits and absolute rubbish music, to be honest.
To get a little look into the life of the producer a mini-documentary has just been released called "Florida to California." Featuring the likes of Tyler the Creator, Post Malone, Justin Bieber and Madonna among the many celebrity cameos, you can watch it now for free below: