Tomorrow Lana Del Rey will release two tracks featuring A$AP Rocky
And on July 21 also releases his new album "Lust for Life"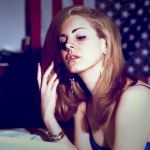 Only a few days to July 21st release date for Lust for Life, the new album Lana Del Rey in which, in addition to a breakthrough in the political texts, will be included several duets.
After the title track of the album made in collaboration with The Weeknd, the singer announces two tracks with A$AP Rocky coming out tomorrow, on July 12th.
A small extract from one of the two songs can be previewed on Instagram's Lana profile.
In the images, a close-up of the New York girl singing
"Do not be a bummer babe

Be my undercover lover babe",
then, after a few seconds, A$AP Rocky starts his rap, but the video stops.
Curious?
To listen more you will have to wait until July 12, when the new tracks will debut on the Apple Music and BBC Radio 1. To kill time, let's catch up with everything we know about Lust For Life.
Tag: Lana Del Rey, Lust for Life, A$AP Rocky, music, song, Instagram