The Weeknd will be on Lana Del Rey's new album
The flawless singer announced the collaboration with the Canadian artist for her title track, Lust For Life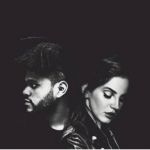 Now there is confirmation: The Weeknd will be in Lana Del Rey's new album.
Interviewed by CourtneyLove for the latest issue of Dazed & Confunsed, the singer she announces the collaboration in Lust for Life, a song that gives title to LP:
"Maybe that's kind of weird to have a feature on the title track, but I really love that song and we had said for a while that we were gonna do something; I did stuff on his last two records and I really wanted to hear Abel sing the chorus, so he came down and rewrote a little bit of it".
In addition to the duet with the Canadian star, Lust for Life will see the participation of Sean Lennon in the song Tomorrow Never Came. Now we have only to wait to hear the album, which for now hasn't an official release date.