Lily Rose Depp poses for Oyster Editorial
A real social media riddle
Name: Lily-Rose Melody
Surname: Depp
Date of birth: May 27, 1999
Up to here you have a huge question mark on your face, if we add to identikit dad Johnny Depp and mom Vanessa Paradis the picture is now clearer.
We are talking about one of the coolest cool kid right now. Be "daughter of" directs perhaps a little 'attention, but Lily-Rose Depp is a real social phenomenon. And think that she has Instagram and Vine only.
Enter in your account and become dependent, she doesn't make things extraordinarily different than a fifteen-type. She goes out with her friends, loves Amelia Kring (which is her BFF), lives in Los Angeles, perhaps has a pug and a bulldog, loves style kawaii, does Selfie, sings, dances and is herself.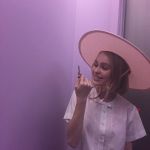 We know nothing about her tastes, actually. We deduced from the photos, Lily-Rose has never given an interview. And perhaps therein lies the secret of her success, the catchy doubt that they have no confirmation on its existence and want to know more and more.
When the choice of anonymity is a win, understood North West?
220k followers spying her life, told in first person, show that a social account is much more interesting than any gossip article of..and then, why are we talking about?
Why has charisma to spare.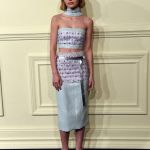 Her first official appearance was the Chanel Métiers d'Art's show in New York, as +1 of Mom Vanessa. She left everyone stunned. We know that the movie Hosers Yoga is coming out, where she acts with Johnny Depp and Harley Quinn Smith. We'll see if she has the physique du role to support the reputation that she's creating.
Meanwhile we continue to stalk her, thinking to know everything about her as if we were friends forever.
The latest appearance in chronological order was the party of Moschino at Coachella, where she was wearing a denim Topshop suit and Alaia t-shirt with an huge personality. Today came out Lily's first shoot for Oyster Magazine.
We definitely love her.