Let's make subliminal marketing subliminal again
In praise of the lost art of subtlety
After the release of Bottega Veneta's Resort 2024 collection, an anonymous Twitter user noticed how many key pieces from the collection had already been worn by A$AP Rocky in recent weeks. The statement is certainly an exaggeration, but it's impossible not to notice how a look worn by Rocky at the beginning of October is an exact replica (including the bag) of the 19th look from the collection. The same can be said for another outfit in which the rapper was photographed, which was look number 53 from the collection, and more recently, a look number 46 without the shoes and leather overshirt. Something similar happened last year with Kendall Jenner, who was photographed with a bouquet of flowers and a no-pants look taken from the runway and given to her. The phenomenon is rarely systematic but does exist, especially for "first-tier" über-influencers. This phenomenon isn't exclusive to Bottega Veneta; last June, for home photos, Hailey Bieber wore the entire second look from Saint Laurent's FW23. For a while now, Lewis Hamilton has been dressed by his stylist Eric McNeal in numerous full looks directly taken from runway shows, ranging from Louis Vuitton to Umit Benan, Zegna to Ferragamo, not to forget Bottega Veneta, which was popular until last year. But what is the purpose of pre-fabricated styling? And can it be called styling?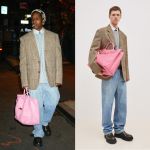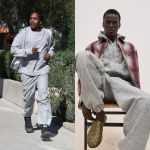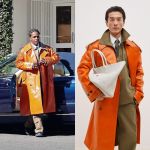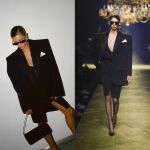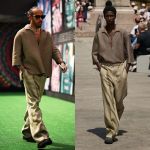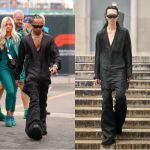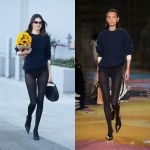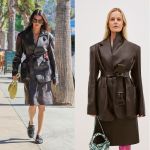 In general, throughout the industry, or at least for the most important brands, the policy of a "full look" prevails when it comes to editorial projects, meaning fashion photo shoots that are not self-produced by the brand. «We have a full look policy and ask for the looks to be shot in full and not mixed with another brand», is one of the most common requests. This approach has its pros and cons. In the past, the styling seen in prestigious fashion magazines set the standard, provided ideas, and, in the best cases, offered new alternative interpretations to what was seen on the runway. However, the habit of combining different pieces also created strange contradictions, such as mixing brands from different price ranges (imagine if Prada and Guess were to be featured in the same look; it would be unthinkable). In terms of personal style, it seems that many celebrities didn't rely on stylists as frequently as they do today. When paparazzi caught celebrities off guard, their looks were invariably "normal." However, this highlighted and better built the iconic status of a brand, from Gucci and Dior bags worn and made famous by Lady Diana and Jackie O, which now bear their names, to Yohji Yamamoto outfits worn in the 90s by personalities like Takeshi Kitano and Carolyn Bessette-Kennedy. This tradition extended to Gucci loafers worn by Francis Ford Coppola and Steven Spielberg's Stone Island sweaters. While personal style remains alive today, as stars tend to mix different brands in the vast majority of cases, the "subliminal" promotion we could call "out & about" or "coffee run" of über-influencers is a true celebrity marketing trend.
Awww that celebrity has such good tastw in clothes....no ur mistaken, hmtheir stylist has good taste in clothes. They just wear it well

— Jay Bland (@jaybland05) February 20, 2014
The interesting thing, however, is that if you read the comments under different photos (usually posted on Just Jared), you'll realize that the public now has a discerning eye to distinguish between a natural look and an artificial one. A week ago, Kendall Jenner was photographed during a "coffee run" in Los Angeles wearing a heavy leather trench from Bottega Veneta's Resort 2024 collection, even though it was 86 degrees in the city at the time. Another user commented that these «these casual "coffee runs" are basically ads». The funny thing, however, is that all these full looks copied from the most recent fashion shows contain no merchandise available in the store but only the collections that have just been presented: in short, they could not have had that full look even by buying it unless the brand itself gave it to them, because it simply did not even go into production. The artificiality of these shots is all too obvious.
Now, there's nothing wrong with this "subliminal" marketing, which has always existed in the form of endorsements. However, in an age when the public is so exposed to marketing, it might be more interesting to better disguise the promotional purposes of certain seeding or public appearances, whose true intentions are immediately recognized. After all, marketing should be a step ahead of the audience, not one step behind. If a significant portion of criticism (a minority, for sure, but from industry experts) laments the lack of creative risks taken by brands, it's also due to this somewhat obvious and crude approach with which marketing tries to artificially create viral moments and fashion icons lacking spontaneity. Not to mention how this practice limits and diminishes the importance of stylists who are now the real responsible parties for celebrity outfits, who in most cases don't even have to make an effort themselves. Like nutmeg in dishes or jealousy in love, marketing should be there but not be felt. Can we make advertising subliminal again?