Il fascino senza tempo dell'uniforme scolastica
Da Eton a Thom Browne, come una divisa ha fatto la storia
Let's start from the beginning: the historical origins of using uniforms as institutional symbols trace back to 1222 in England when students were mandated to don robe-like garments that closely resembled capes, referred to as "cappa clausa." Initially, these robes were primarily worn by professors of law, theology, and humanities during the Middle Ages. Prior to evolving into student uniforms, these capes signified the status and expertise of professors as intellectual elites, eventually undergoing simplifications for students attending classes. Following this, the adoption of school uniforms didn't initially occur within the traditions of English private schools but rather took root in charity schools. The prototype of the modern school uniform began to emerge during the 16th century, marking a period characterized by the standardization and diversification of school attire.
During this period, private and preparatory schools embraced the concept of uniforms to underscore their affiliation with the aristocratic society. Uniforms, including hats, were mandatory, a practice that persisted, notably at Eton College, until 1972. The 1920s are widely acknowledged as the period when the initial version of the modern Western school uniform for girls made its debut, coinciding with the increased accessibility of education for women. During this era, young girls embraced the "middy" style — a loose, white blouse featuring a tapered front and a squared-off back, reminiscent of a sailor's attire. This transformation in school fashion mirrored the social and cultural shifts of the era, representing a significant milestone in the emancipation of women and their broader access to education.
School uniforms in fashion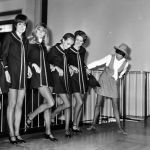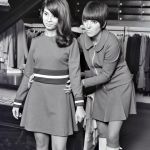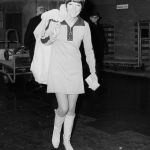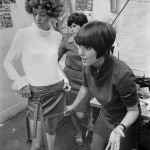 In terms of women's fashion, Mary Quant, the British designer of the 1960s, played a central role in popularizing elements of the school uniform, such as the mini-skirt, contributing to the emergence of retro-schoolgirl fashion. The school uniform has since been a major source of inspiration for designers throughout the decades. Nowadays, it continues to exert a lasting fascination in the world of fashion and reinvents itself according to trends and contemporary creators, evolving over the eras to remain a timeless reference. Thom Browne's collections, designed for both men and women, are imbued with a unique vision of the school uniform. Browne has turned this once austere attire into a work of art in its own right. His creations stand out with iconic shirt-collar lapel suits, which have become his signature, and pleated skirts that evoke the very essence of the uniform. This subtle exploration of the boundaries between genders and traditional dress codes has earned Browne numerous accolades for his avant-garde vision.
J.W. Anderson's collaboration with Uniqlo is a true lesson in preppy style, drawing strong inspiration from collegiate wear and filled with sportswear details. This exploration of the educational aesthetic is ingeniously translated into this collection, infusing a touch of casualness into formal attire. Renowned Irish designer Simone Rocha readily delved into the educational realm to influence her feminine collections, skillfully deploying cuts and textures to create a distinctive style. In her creations, she successfully integrated characteristic elements of uniforms, playing with their aesthetics to craft a unique look.
Under the direction of Miuccia Prada, Miu Miu seems to have received the memo. In keeping with the trend, it has offered us a modern reinterpretation of this classic aesthetic. Recently, the brand has managed to infuse a sense of edginess and suggestion into the distinctive features of uniforms. "Like rebellious private school kids cutting up their uniforms, she shortened the length of skirts and tops—frayed edges in tow—until there was barely anything left to crop," thus adding a subversive and innovative dimension to her creations.
School uniforms in cinema
School uniforms, omnipresent in the world of education, have also found their place on the big and small screens. They have become iconic elements in many films and series, playing a crucial role in character and storyline development. Costumes used in The Virgin Suicides or Dead Poets Society adopt a stricter, orthodox, and realistic aesthetic: in Sofia Coppola's work, we can observe that the uniform is used to emphasize the contrast between apparent conformity and the desire for individual freedom of the main characters. The Lisbon sisters seek an escape from imposed order and aim to find their own identity but are constantly hindered by social and familial expectations. It contributes to creating an oppressive and conservative atmosphere by reflecting the narrow and traditional worldview of the time. Here, Peter Weir uses school attire to symbolize the conformity and rigidity of the educational system at Welton Academy. Students wear it in a traditional manner, thus becoming a reflection of the institution's strict standards. It is when Professor John Keating, played by Robin Williams, intervenes and encourages his students to think independently, challenge authority, and pursue their own artistic and intellectual paths.
In series like Gossip Girl or the famous movie Clueless, school uniforms are meaningfully used to reinforce character and aesthetic. Both share similar themes and narrative elements such as fashion, social class, and power dynamics within school settings. The attire contributes to rivalry and competition among characters, highlighting social pressure and high school standards. Characters add their personal touch by incorporating designer accessories and modifying pieces to reflect their individual style, creating a contrast between uniformity and the students' individuality.
School uniforms in music
On the other side of the entertainment world, music videos employ school uniforms for various reasons: to create a memorable visual aesthetic, to tell a story, or to reinforce the song's message. The perfect example to illustrate this point is Britney Spears' Hit Me Baby One More Time, which owes its success not only to its catchy melody but also to the schoolgirl costume worn by the singer. Here, the schoolgirl attire represents a complex blend of innocence and rebellion, imbued with the aesthetics of the "good girl gone bad." Simultaneously suggestive and revealing, long fetishized, it became an icon of the provocative 1990s aesthetic. Widely parodied, imitated, and referenced in the media, it helped define a new fashion norm in pop culture.
Thousands of kilometers away, the use of uniforms by K-pop groups goes beyond appearance to become a key element of their visual identity. This clothing choice, inspired by South Korean uniforms, conveys cultural values of youth, innocence, and discipline while providing visual coherence that strengthens the group's identity. On one hand, it allows fans to immediately recognize group members and establish a strong visual connection with them. On the other hand, it enables artists to play with themes and concepts, creating a complete artistic experience that appeals to fans worldwide.
This enduring influence reflects the ability of the school uniform to transcend generations and adapt to changing fashion trends while maintaining its iconic status in the fashion industry. Whether you love it or hate it, the school uniform is not likely to disappear anytime soon. More than just standardized attire, it acts as a blank canvas, allowing each person to interpret it in their own way and express their creativity. But one question remains: What do you think the French school uniform will look like?