Which tank top style are you wearing this summer?
From Dolce&Gabbana to Courrèges, check out the best looks
It is a simple garment, created to cope with the heat and to dodge unwanted sweat stains. The vest made its way into fashion trends from 1912, although back then it was only used by swimmers and athletes in swimming pools and on rowing boats. In cinema, it was used to emphasise the virility of the characters - and highlight the biceps of the actors who personated them - from Channing Tatum in Magic Mike to Hugh Jackman in X-Man, and even Vin Diesel in Fast and Furious and Brad Pitt in Fight Club. In LGBTQ+ history, it represents a means of expression that has become part of the community language, uniting the minorities gathered under this acronym precisely because it was previously a stereotype of masculinity and machismo. The vest has been part of countless lives, and today, like all the garments that have been part of the history of subcultures over the last century, it is now an ever-present item in everyone's wardrobe, as well as on the menswear catwalks during fashion weeks.
For this summer, even the most prominent designers have taken inspiration from the silhouette, starting with the simple, uncovered lines that characterise the tank top and having fun ripping and curling it in original ways. Rick Owens reduced it to a simple Banana stripe, as he called it, Versace dived into the pool taking up the style of one-piece swimming costumes, Emporio Armani played with cut outs, overlays and breathable fabrics, while Hermès, Martine Rose and Dolce&Gabbana preferred to stick to the great classics. Givenchy's proposal on the catwalk saw tank tops dyed a blinding white, combining the top with a logoed balaclava, and Casablanca's, directly linked to a western style, decorated a tight-fitting yellow tank top with leather bows and lace embroidery.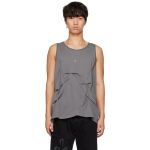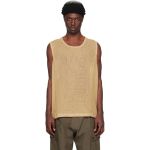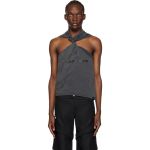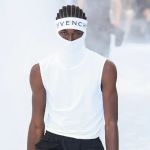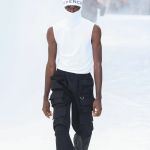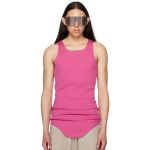 Among the most interesting looks for summer 2023, very different genres and shapes stand out. The first, impossible not to mention, is the classic ribbed cotton tank top by Bottega Veneta, a perfect example of a successful marriage of simplicity and freshness. For lovers of bright colours, there is the pink of Rick Owens, on a long tank top with a spherical hemline, inspired by a diver's or surfer's suit; on the same wavelength also Kiko Kostadinov's blue tops, very low-cut and with fake laces on the edges. Designers who let themselves be carried away by fantasy also included Nicolas di Felice, who at Courrèges twisted the straps of a grey tank top; and Cho Giseok, who with his Kusikhoc brand created a ruffled top with metal eyelets.