Romeo Gigli's poetics of travel and culture
One of the most innovative designers of the 20th century
In the Olympus of historic Italian designers, those who have defined the course of ready-to-wear and haute couture in a significant way paving the way for future generations, one can certainly find the name of Valentino, Gianfranco Ferré, Krizia, Giorgio Armani and Franco Moschino. There also happens to be the name of a creative designer who, despite being known in the industry for his splendid collections, often imitated and replicated, has not, however, received the recognition he deserved: Romeo Gigli. His career began as an architecture student, although he never completed his studies; at a very young age he began to travel for about ten years, mainly to the countries of the Far and Middle East, absorbing as much as much information he could from these distant worlds that would profoundly influence him, especially on a stylistic level. Having returned to Italy with a very rich cultural background and a collection of exceptional 'textile finds', he began working for Callaghan, the Zamasport brand for which Gianni Versace had also worked.
His creations for the brand immediately showed his eye for rich and intricate decoration, as well as a tendency to celebrate the past, all complemented by flowy silhouettes. These elements, although not yet applied to the eponymous brand he was soon to create, would be his stylistic hallmark throughout his career, refining more over time, as they reached some high points that have truly marked the history of fashion. Gigli's style became more mature and less opulent when he began to present the collections that bore his name, without ever depriving himself, however, of those travels that characterised his training as a young designer and that would lead him to include, almost inevitably, many different sources of inspiration, especially of an ethnic-traditional and geographical nature. Different cultural impulses from the most disparate corners of the world are constantly mixed to create new cuts and innovative silhouettes. This without ever generating excessive contrasts, but with a constant delicacy and ever-present harmony, even where thematic oxymorons might seem more jarring.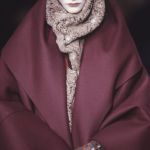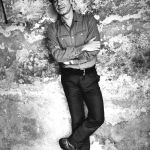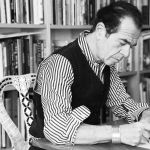 This very special aesthetic, made up of experiences, travel, stratifications and cultures, has allowed him over the years to present collections that have been the perfect exemplification of this. Starting with Cristalli, Spring Summer 1990, with the famous and enormous earrings themed with the title chosen for the season, one of Gigli's best-known shows ever, and moving on to La Persiana Autumn Winter 1994-95, or Principesse Contemporanee Autumn Winter 1996-97, the designer has demonstrated his mastery in translating the stimuli he has managed to gather from around the world into creations that are consistent and timeless, elegant and wearable, innovative and traditional. Some of these have been exhibited at Momu in Antwerp, the Fashion and Textile Museum in London, the Fashion Institute of Technology and the Metropolitan Museum in New York, as well as being acclaimed by the public to great acclaim.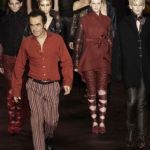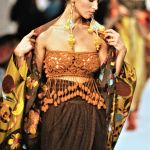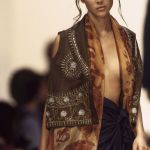 The brand founded in 1983 was left by Gigli in 2004, although it continues to exist without its founder. This is just one more example of how this type of creative 'from another era', although it has proved to everyone that it is brilliant with its work and inventiveness, is not compatible with the market dynamics of contemporary fashion, which hardly accommodates such an intellectual, artistic and even story-laden vision, favouring commercial success at all costs, mind-boggling sales and global distribution. All needs far removed from Gigli's work and poetics.