"Quiet luxury" is no excuse for being basic
A minimum of style is always needed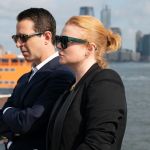 In the past week, in which there has been more talk about the idea of "quiet luxury," a number of voices from leading fashion commentators have risen to scale back and reflect on the concept. The most eloquent was Brenda Weischer who wondered if all this talk about hyper-anonymous luxury doesn't foolishly celebrate the absence of style, bringing up Mark Zuckerberg's well-known sloppiness now hailed as miraculous minimalism. Bryan Yambao (better known as @bryanboy) has also had his say, pointing out that the idea of "old money" cultivated through moodboards, archives, and press releases refers only to Western clothing since in other countries (the prime example would be India) the holders of this "old money" traditionally dress very richly. In addition to these two voices there have been thousands of others delving into or glossing over the same concept have pointed out that the main question the wave of "quiet luxury" poses is how "anonymous" this luxury should be, and whether this ambition of invisibility does not end up reconfirming a Eurocentric and basic view of dressing. After all, the spark of fashion is ignited when we venture outside our certainties, when we experiment and want to be noticed, not when we conform to an expectation. This of course is something that old money brands themselves know (Gildo Zegna said last week that Zegna is now «more fun, more modern and more stylish» contrasting the brand's past with Alessandro Sartori's fresher approach), and in fact, the course correction that should be made is in consumer perception: quiet luxury does not mean dressing like the good family boy going to his first Rotary Club meeting, but forgoing what is aspirational and preferring what is exquisite.
This data leads toward new thoughts. Still Brenda Weischer, on Twitter, asks how it is possible that one of her Rick Owens outfits is considered quiet luxury by some just because it is completely black and lacks logos. «In what world is a full Rick outfit quiet?», Weischer asks himself. Answering it is not so simple. As one of her commenters we can only reiterate that the common thread that binds "quiet luxury," "old money," and "stealth wealth" is both the absence of logos and the fact that it can be recognizable to a few, the ability to be part of the cultural language of a group that fashion journalists often refer to as "cognoscenti." In other words, if you know you know. It is obvious, however, that the concept of "if you know you know" opens the playing field to all sorts of experimentation as long as it is subtle. Even a brand like The Row always stamps a definite identity on its designs that are always recognizable in their immaculate simplicity. In describing his own ideal blazer 20 years ago, Hedi Slimane said: «The way a jacket drapes, the way it falls, should have the quality of being effortless». And that is in a straight and clean manner, precisely without striving for a certain effect. It goes without saying that a good garment can and should be worn effortlessly, but it is never created effortlessly - a level of research into materials, design, and engineering that always emerges and makes even what looks mundane on paper look original. One of the most ambiguous attributes of "quiet luxury," after all, is its tendency toward classicism that leaves room for some experimentation but without ever falling back into avant-garde or mass-market genericness. We speak of ambiguity because there are brands, such as Maison Margiela, Prada, or Dries Van Noten, that produce both completely anonymous luxury basics and decidedly more challenging designs. The design ethos of these and other brands contemplates both options - and this discourse can extend to many other realities of the fashion industry.
To return to Weischer's argument, then, the concept of "quiet luxury" does not exclude that of personal style. Ergo, some styling is always needed - styling that is linear and harmonious but no less deliberate and studied. Some guidelines: extreme attention to materials, an absolute ban on synthetic fibers, pants or skirts with a generous and never skimpy fit, a nonchalant attitude toward oversize and distressing, simple but statement accessories that together with shoes drive an essential and clean look, and, of course, no form of decoration and ornamentation. In short, one still has to glimpse the imprint of a personality and critical thinking that has combined anonymous and very ordinary pieces in an interesting way, even if the "quiet luxury" as a philosophy wants to bring back the enjoyment of clothing to the intimate dimension of the wearer. Hitting oneself and not others is the pivot of this idea. Whether it's over-the-top colors and prints or cashmere sweaters in neutral colors, conformism and petty-bourgeois modesty are the main ingredients of basicness-along with something we might call "tentativeness" or velleitarism-that is, the pretense, as Nicolás Gómez Dávila wrote, of being what we are not. Dàvila also wrote: «Vulgarity arises when authenticity is lost. Authenticity is lost when we seek it». It follows that a basic outfit is very inauthentic since it adheres to a conventionally accepted but completely inert stereotype. The line between refined minimalism and cheesy basicness is a blurry, thin line - but only those who are not basic can see it.