John Wick's tailor is Italian
But all of Hollywood is succumbing to the allure of Italian tailoring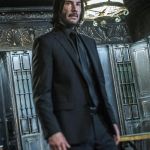 Men's tailoring is having its moment. Between the return of stealth wealth to the catwalks and the renewed energy that post-pandemic cinema seems to have regained as the superhero genre falters, more and more actors are sporting suits both on screen and in real life-with the best in their respective fields being Keanu Reeves, with his John Wick beating up gangsters left and right in a suit and tie, and Chris Pine, whose public appearances to promote the new Dungeons & Dragons have almost always been accompanied by suits that are smart but never boring. All of these examples (the most recent would be Chris Pine, who went on Jimmy Kimmel on Tuesday, March 28, in a white suit paired with an olive green silk shirt) have in common not only the attempt to provide the classic male uniform with new narrative and aesthetic dimensions, but also the country of provenance, namely Italy. Italian is the costume designer who signed John Wick's original suits, Luca Mosca (the costumes of the last one are by Paco Delgado and Eike Neumann); Italian are the brands that worn by Keanu Reeves on the red carpet, Boglioli and Brunello Cucinelli; and also Italian, born between Abruzzo, Naples and Rome, is the brand that provides Chris Pine with practically all his suits from the last Venice Film Festival to the present and even dressed Paul Mescal for the Oscar nominees' dinner earlier this month, Giuliva Heritage. And that's without even mentioning the most famous of Italian menswear brands, Zegna, which during the last award season alone dressed Pedro Pascal, Kieran Culkin, Daniel Brühl, Oscar Isaac and Hugh Jackman. Which is striking given that, recently, pages like @checkthetag have been filled with brands from New York Fashion Week suggesting that the star system is trying to endorse and legitimize American fashion.
What distinguishes the masculine, tailored red carpet looks we have listed above from the more "fashionable" ensembles seen in the recent award season is their ultimate purpose: the point of a classic red carpet suit is usually to flaunt the dress itself, with its volumes, colors, and materials; the point of Chris Pine and Keanu Reeves' suits (both on and off screen) is to enhance the wearer of the suit. Interestingly, however, neither star adhered to the idea of the traditional tailored suit, gray or navy blue, the one made to disappear into the crowd as in the 1800s, but rather reinterpreted it with different variations: Chris Pine is the most far-sighted here, with suits with vast lapels, rich shades of green, alternating porous and shiny materials, and details (a handkerchief in a pocket or knotted at the neck, changing the classic shirt for a turtleneck or knitted serafina, etc.) that create an abysmal distance between his suits and those of, say, a real estate agent or insurance consultant in his own disciplined gray corporate suit. Devising these and many other sartorial looks worn by Hollywood's leading actors in the past year have been the two stylists Wendi Ferreira and Nicole DeJulio, who probably together with Jeanne Yang, stylist to Keanu Reeves and other leading American actors, are among the main architects of that swing toward classicism in menswear that followed the avant-garde and hyper-expressive looks seen in the immediate post-pandemic.
Interviewed by WWD earlier this year, stylist and designer Jason Rembert made an interesting distinction between the return of classic menswear today and the suits that dominated the red carpets in the pre-streetwear era: the latter were «just formality», worn, that is, as a duty or the performance of a task (and it showed, we might add); while those seen in the recent season, including the less innovative ones, have benefited not only from a renewed cultural relevance but also from slightly more relaxed cuts and a greater openness toward the adoption of unconventional colors and an experimentalism in the field of workmanship and materials. In short, your grandfather's old suit is no longer what should come to mind when you hear the word "sartorial" - a fact that, by the way, we had also noted for the tailoring seen during the Paris women's shows with The Row, Undercover and Dries Van Noten or that which appeared in Tàr. In the field of menswear, this comeback represents both a search for order and a break with the social enmeshment that the men's suit represented in the past and in many ways still represents today. And it is remarkable that the best interpreters of this change are precisely Italian tailors - a revolution that we could start with Toni Servillo's wardrobe in La Grande Bellezza, signed ten years ago by the legendary Cesare Attolini who passed away last year, but also by that ecosystem of brands both historical like Boglioli and very young like Giuiliva Heritage that in Italy (but also in France, just think of Cifonelli, Charvet or Berteil) have always operated, however, being overshadowed for years by the cult of streetwear that had relegated them to a dark and dusty corner of menswear. Fortunately, in 2023 that corner is no longer dark or dusty - and Hollywood has begun to notice.